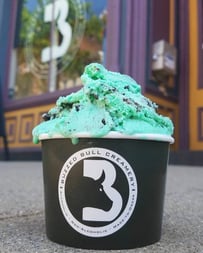 For some of us, Cincinnati is our home town and others loved it so much, they had to stay. Whatever the case may be, Cincinnatians have so much support for the place we call home. Everyone wants to support their local small business especially when they are as good as Servatti Pastry Shop, Buzzed Bull Creamery and Graeter's Ice Cream. Local restaurants, breweries, and Cincinnati-based businesses want to show us the love right back with reward programs. That's right! Discounts, rewards, sweet deals, and more. And who doesn't love to save money?
We don't want you to be missing out on local deals and discounts, so we have put together the ultimate Cincinnati-based Reward Programs list. Here are our Cincinnati favorites for customer loyalty programs, and what you can learn from each.
Local Reward Programs:
Cincinnati Bell Rewards- (Free) CB Rewards is Cincinnati Bell's new reward program that provides residential account customers the opportunity to earn rewards and receive special offers. To explore and use CB rewards, simply log into your account and visit CB Rewards tab. This tab can be found by logging in online or through the MyCB app. In this tab, you can see your rewards portal which will provide a complete breakdown of your rewards. What CB Rewards Can Do:
Check Reward eligibility
Points available and points redeemed
First bill and anniversary bill date
Auctions - Auctions give you the opportunity to bid on a particular item. Each item on auction carries an allotted auction time. The highest bid at the end of the auction time will be rewarded the item
Sweepstakes - Sweepstakes give you the opportunity to use reward points to purchase a chance to win a contest. Each entry will carry a point value. Submit that number of points for an entry
CB Shop - CB Shop gives you the opportunity to use reward points to purchase an item. Reward points used for an item are deducted from your account in exchange for the item
---
Buzzed Bull Creamery – (Free) That's right alcohol-infused ice cream and milkshakes that start at 5% ABV. A delicious deal is waiting for you for just signing up.
Just for signing up, you get two free mix-ins to redeem on your next purchase!
Special Rewards
Digital Ordering
---

Servatti Pastry Shop – (Free) Servatti's is the tasty treat that all Cincinnatians love. With so many locations, there are so many opportunities to save.
You earn 1 point for every dollar spent. Once your point balance reaches 100, you will automatically earn your reward, and 100 points will be deducted from your balance
Just signing up, you receive at $5 discount redeemable at any Servatti's location
---
Kroger Give Back – If you are from Cincinnati you know about Kroger Plus Cards, but did you know that Kroger also has Community Rewards? Once you're enrolled, you'll earn rewards for your chosen organization every time you shop and use your Plus Card! That's a pretty sweet deal for just going grocery shopping!
Give back to our local community
---
Graeter's Ice Cream – (Free) Graeter's Sweet Rewards is a program designed to reward you for purchase made on your favorite Graeter's treats.
Earn 1 point for every $1 you spend at a Graeter's Ice Cream location.
After you earn 100 points, you will be awarded a $5 reward for use in one of the Greater's Ice Cream locations.
Birthday Rewards
---
Joseph Beth bookstore – (Free) When you join Gives Back Member Rewards, you earn points on every purchase. Plus, you save money on bestsellers, Staff Picks, and our Products of the Month.
Instant $25 in coupons
Save 30% on Bestsellers, 20% on Staff Picks
Free Shipping on Direct-to-Home (in stores only)
A percentage of all proceeds go back to the community.
Earn $10 for every $200 spent in the bookstore
Earn $10 for every $200 spent in the Bistro

A $10 birthday coupon at Bronte Bistro
---
Currito – (Free) Cincinnati-based restaurant, Currito, has all of your burrito needs. If you are a frequent visitor or just love Mexican food, Currito wants to treat you to rewards.
When you sign up, you start at the "Green" level where you get 1 point for every dollar spent
A free birthday smoothie
Give $10, get $5
Platinum, Gold, and Back Rewards
---
Tom+Chee – (Free) Tom+Chee is not a typical sandwich shop, the Cincinnati-based chain offers a variety of twists on the classic grilled cheese, and is now is offering rewards!
Link a credit (or debit) card to the app
Pre-pay for pickup orders
Digital gift cards
Earn $5 in rewards for every $50 dollars spent
The Tom + Chee app is available on Google Play and in the Apple App Store
---
If you shop at any of these places, frequently or even semi-frequently you should definitively be taking advantage of these programs. They are essentially giving you money.
If you enjoyed learning where you can save money and earn rewards every time you shop and support local businesses, make sure to subscribe to the Cincinnati Bell blog for other Cincinnati and local related content.