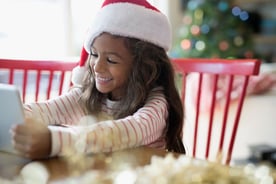 It was the season of Christmas,
When all through your house,
Not a being was stirring
not even a computer mouse;
Alexa was set up in the kitchen with care,
in hopes that reindeer soon would trot there.
The children were all excited, happy to ask questions,
and Alexa could answer all the Santa obsessions…
Let's be honest, it's never too early to get excited about the holiday season; it will be here before you know it and this year you are going to be prepared.
Amazon's Alexa is here to spread joy and make life brighter during this holiday season with some pretty festive skills that you might not know about. Here are 20 Holiday Alexa commands to get you into the Holiday spirit:
Suggest Daily Acts of Kindness -

Alexa can help you stay on the nice list with this skill that suggests random acts of kindness.

Start each day with this simple phrase, "Alexa, Open Christmas Kindness" and Alexa will provide a random idea about how to integrate kindness into your daily life, like showing extra affection to the people you love or letting cars go ahead of you in traffic. Bonus: Ask Alexa "What are you thankful for?"


---

Jewish Blessings – If you're not sure what blessings to say, just ask Jewish Blessings! Alexa will tell you the blessing, or after blessing, whether it's on food, drinks, holidays, or various occasions. Here are some examples of what you can ask: "Alexa, ask Jewish Blessing for the blessing on falafel" or "Alexa, ask Jewish Blessings what the blessing for lighting candles on Hanukkah is."


---

Control your Christmas Lights – You can plug any strand of Christmas lights into a TP Link Mini Plug, which can be purchased from Cincinnati Bell, and be able to control it with your Alexa. Just link your plug to your Alexa using the Amazon Alexa app and say "Alexa, turn on the Christmas tree lights". Your house will be glowing in no time.


---

Play Christmas Music – Whether you are decorating the tree, baking Christmas cookies, wrapping presents, or having a Christmas party, get into the Christmas spirit by asking Alexa to play music on your music streaming service of choice. If you don't have a subscription, you can always enable the Christmas Radio Skill.


---

Ask her to sing you a Christmas carol – Really, go ahead and try it! You won't be disappointed.


---

Play Christmas music curated by Santa – If you are in the mood for something extra special, add the iHeartRadio skill called iHeart Santa and enjoy a Christmas playlist curated by Santa himself.


---

Listen to Christmas poems and stories – Enjoy Christmas poems such as The Night Before Christmas with the whole family. Just ask Alexa to recite a Christmas poem, holiday limerick, or holiday haiku.


---

Menorah Aid - Easily keep track of what night of Hanukkah it is and which candle to light next. Just ask the Menorah Aid your questions and Alexa will tell you the answers you're looking for!


---

Track Santa – On December 24th, NORAD conducts a special mission tracking Santa across the globe to keep him safe until he arrives at your house. Find out how many days are left until Santa begins his journey, follow him as he gets ready the day before his flight and hear his locations before he arrives! Just ask Alexa, "Where's Santa?"


---

Christmas Countdown - The Christmas Countdown Alexa skill lets you know how many days left before Christmas day. Be sure to check Christmas day for a special message!


---

Naughty or Nice? – Enable the Santa Claus skill and Alexa will ask a series of questions to help determine whether the kids have met their full niceness potential.


---

Dear Santa

– Dear Santa is the perfect holiday skill for young children to tell Santa what they want for Christmas and report their good behavior. When your child tells Santa an item on his or her Christmas list, it will be emailed to Santa as well as to the email on file (aka Santa's special Mom and Dad elves) for your Amazon Account.




---

Spin the Dreidel – Let's play dreidel! Ask Alexa to "Spin the Dreidel" to spin once or ask Alexa to start a multi-turn game.


---

Elf Names – If you have ever been curious about what your name would be if you were an elf, Alexa might have the answer. Just ask for an elf name, and get ready for something silly.

---

Explore Christmas Trivia by asking Alexa -
"Is Santa Claus real?"
"Where does Santa Claus live?"
"How old is Santa Claus?"
"What can you tell me about Santa's reindeer?"
"Who's your favorite reindeer?"
"What is the true meaning of Christmas?"
"Alexa, can you name Santa's reindeer?"
"Alexa, do you want to build a snowman?"


---

Christmas Facts

– After you explore the Christmas Trivia, make sure to ask Alexa for some interesting Christmas facts. You will find out facts like why we celebrate Christmas on the 25

th

of December and where the tallest Christmas tree ever was displayed.




---

Hanukkah Facts –

How much do you know about the holiday Hanukkah? Alexa is here to tell you all there is no know about Hanukkah. Just say the command, "Alexa, open Hanukkah Facts.

---

Fireplace Video –

Relax by the open fire on your Echo Show. This skill plays three hours of calming open wood fire on your Echo Show. It's the perfect addition to your holiday décor.




---

Christmas Screensaver -

Get into the Christmas spirit with this video slideshow of beautiful holiday imagery backed by classical seasonal music. The slideshow runs for over one hour and is perfect for seasonal ambiance.




---

Hanukkah Menorah - This skill offers six features to help you celebrate Hanukkah, including lighting candles on the Menorah on your Echo Show, reciting blessings, countdowns, and more.
Don't have an Alexa-enabled device to enjoy these holiday hacks? You're in luck! Right now you can be entered to win an Amazon Echo Show by subscribing to the blog! The winner will be drawn on Monday, December 17th, in time to gift or to enjoy in your home.
Also, be sure to visit a Cincinnati Bell store to check out our holiday offers on all the Amazon Alexa-enabled products in our Connected Home product suite.
Spend time with your family this holiday season and enjoy these fun things to do with Alexa! Let us know which one will become your favorite Alexa holiday tradition.