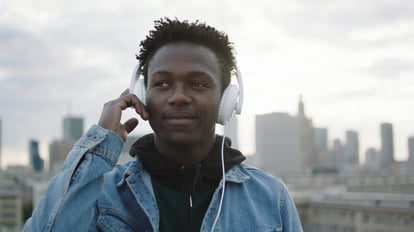 Let's talk podcasts! Podcasts have the ability to broaden your perspective and grow your understanding and knowledge of a subject in a relatively short period of time. They are great for educational reasons and also entertainment.
Plus, there are a vast number of podcast categories so you can listen to whatever you want. You can listen to any subject including comedy, true crime, education, storytelling, audio books, health/wellness, arts, entertainment, society/culture, sports, games, lifestyle, kids/family, business, and technology. Any information you are looking for, you can most likely find a podcast that correlates. The podcast possibilities are truly endless!
The industry of podcasts are growing rapidly and they are still progressing! Technological advances and the conveniences of a faster connection have made it easy to stream podcasts almost anywhere. Being able to listen to great content no matter where you are or what you are doing is one of the major reasons that podcasts have grown so rapidly over the past couple years. Podcasts allow you to listen without disrupting your day-to-day life. So, whether you are on your morning commute, doing some work around your house, working out at the gym, or doing routine activities at work, you can start listening now.
One of the most interesting & educational categories in the podcast world is the world of tech. We have put together an extensive list of the top technology podcasts that we would recommend. Listen up and enjoy!
33 Technology Podcasts
Tech Talker's Quick and Dirty Tips to Navigate the Digital World:

Tech Talker demystifies technology and cutting edge devices so that even the most tech illiterate can understand what's going on with their computer or smartphone - and what to do when something goes wrong.

Mac Power Users:

Learn about getting the most from your Apple technology with focused topics and workflow guests. Creating Mac Power Users, one geek at a time since 2009. Hosted by David Sparks and Stephen Hackett.

This Week In Google (MP3):

Leo Laporte, Jeff Jarvis, Stacey Higginbotham, and their guests talk about the latest Google and cloud computing news.

Rocket:

Countdown to excitement! Every week Christina Warren, Brianna Wu and Simone de Rochefort have accelerated geek conversation. Tech, comics, movies, games and books, no galaxy is off limits! Hosted by Simone De Rochefort, Christina Warren, and Brianna Wu.

Clockwise:

Clockwise is a rapid-fire discussion of current technology issues hosted by Dan Moren and Mikah Sargent and featuring two special guests each week. Four people, four topics--and because we're always watching the clock, no episode is longer than 30 minutes. Hosted by Mikah Sargent and Dan Moren.

Accidental Tech Podcast:

Three nerds discussing tech, Apple, programming, and loosely related matters.

American Innovations:

DNA science. Artificial intelligence. Smartphones and 3D printers. Science and technology have transformed the world we live in. But how did we get here? It wasn't by accident. Well, sometimes it was. It was also the result of hard work, teamwork, and competition. And incredibly surprising moments.

IRL with Veronica Belmont:

Host Manoush Zomorodi shares real stories of life online and real talk about the future of the Web.

Exponent:

In this program we seek to explore the massive effect technology is having not just on technology companies, but also on society as a whole. Ben Thompson is the author of Stratechery, a blog about the business and strategy of technology. James Allworth is the co-author with Clay Christensen of "How Will You Measure Your Life" and a writer for the Harvard Business Review.

Future Tense:

A critical look at new technologies, new approaches and new ways of thinking, from politics to media to environmental sustainability.

Twenty Thousand Hertz:

A lovingly crafted podcast that reveals the stories behind the world's most recognizable and interesting sounds.

IT Visionaries: Welcome to IT Visionaries, your #1 source for actionable insights, lessons learned, and exclusive interviews with trailblazing IT leaders. When you subscribe to IT Visionaries, you'll get two weekly episodes.Each is packed with value, stories, and trends - all directly from leaders on the front-lines of technological innovation.
Anatomy of Next:

In the second season of Anatomy of Next, explore every aspect of going to Mars, transforming it into a habitable world, and building a new branch of human civilization. How do we bring a cold, dead planet back to life? Can we build an atmosphere on Mars, thaw the frozen plains, and build an ocean? How do we seed a barren land with life, and make a red Mars green? Then, it's everything from politics and education to money, music, and architecture. What does it mean to be human on an alien world?

The Upgrade by Lifehacker:

Each week, Melissa Kirsch & Alice Bradley of Lifehacker bring in all-star guests to tackle the stuff that matters—like how to be happy, how to buy a TV, how to be less bad with money and how to tell if you're dating a psychopath. Look, you're doing great, but quite frankly we think you can be a little better. All your friends do too. It's time for The Upgrade.

How I Built This with Guy Raz:

Guy Raz dives into the stories behind some of the world's best known companies.

How I Built This

weaves a narrative journey about innovators, entrepreneurs and idealists—and the movements they built.

Decrytped:

The global technology industry is a powerful engine of innovation that drives the economy. It's also a collection of insular communities full of hidden projects, quiet rivalries, and uncomfortable truths. Join Bloomberg Technology's Brad Stone each week as he and the team's reporters uncover what actually happens behind closed doors.

Note to Self:

Is your phone watching you? Can texting make you smarter? Are your kids real? Note to Self explores these and other essential quandaries facing anyone trying to preserve their humanity in the digital age.

Crazy/Genius: Big questions about technology, science, and culture, hosted by The Atlantic's Derek Thompson. On Season 3: unbreak the internet.

A16z:

The a16z Podcast discusses tech and culture trends, news, and the future -- especially as 'software eats the world'. It features industry experts, business leaders, and other interesting thinkers and voices from around the world.

This is Only a Test:

This is the official podcast of Tested.com. Tested brings you the week's technology and science news, with hosts Will Smith, Norman Chan, and Jeremy Williams. There's no jargon here, just solid explanations of the week's news--and plenty of wacky tangents. Make sure you stick around after the outro for fake outtakes!

Stuff You Should Know:

If you've ever wanted to know about champagne, satanism, the Stonewall Uprising, chaos theory, LSD, El Nino, true crime and Rosa Parks then look no further. Josh and Chuck have you covered.

Techdirt:

The Techdirt Podcast, hosted by Michael Masnic.

Reply All:

"'A podcast about the internet' that is actually an unfailingly original exploration of modern life and how to survive it." - The Guardian. Hosted by PJ Vogt and Alex Goldman, from Gimlet.

99% Invisible:

Design is everywhere in our lives, perhaps most importantly in the places where we've just stopped noticing. 99% Invisible is a weekly exploration of the process and power of design and architecture.

The Future of Everything:

Discover what comes next with this in-depth look at how science and technology are revolutionizing the way we live, work and play.

Hackable?:

We see lots of movies and TV shows where hackers can infiltrate our lives with just a few keystrokes. But is it real? We're here to find out. Malicious cat photos, sketchy Wi-Fi networks, rogue rentals, all-knowing webcams - those are just a few topics tackled in Hackable?, where we let our hackers shed light on just how secure we really are.

Epicenter:

Epicenter brings you in-depth conversations about the technical, economic and social implications of cryptocurrencies and blockchain technologies. Every week, we interview business leaders, engineers academics and entrepreneurs, and bring you a diverse spectrum of opinions and points of view.

The Talk Show With John Gruber:

The director's commentary track for Daring Fireball.

If Then: If Then

is a show about technology, society, and power. Each week, the hosts take you on a lively tour of the tech news that actually matters, from fake news in your Facebook feed to the algorithms that want your job to the Uber drivers who want a job with benefits. With news-making interviews of key tech-industry figures, fascinating academics, and top tech journalists, they explore not only how the technology that's shaping our world works, but the ideas, ideologies, incentives, and biases that underlie it.

Why'd You Push That Button?:

Why'd you like that celebrity photo on Instagram? Why'd you leave that restaurant review on Yelp? Why'd you text in lowercase, or turn on read receipts, or share your location? Ashley Carman and Kaitlyn Tiffany ask real people the hard, meta, and occasionally silly questions about the way technology influences our thinking, changes our behavior, and affects our social lives.

Moonshot:

Explore the world's biggest ideas and the people making them happen. Are you ready for self-driving cars, jetpacks, 3D printed food, or a trip to Mars? Moonshot talks to the people who are at the forefront of all this rapid change to find out what the future of humanity might actually look like. Hosted by Kristofor Lawson and Andrew Moon.

The Internet of Things:

Stacey Higginbotham has covered technology since 2001. In my years covering tech I became more fascinated by the stuff were were able to do on vast computing networks and ever speedier mobile and wireline broadband networks. Finally all of the elements of the technology I've covered in more than a decade have culminated in this moment and we're creating the internet of things.

This Week in Tech (MP3):

Your first podcast of the week is the last word in tech. Join the top tech pundits in a roundtable discussion of the latest trends in high tech.
If you enjoyed this list of technology podcasts and would like to learn more or have another subject you are interested in, let us know! For all of you podcast people out there, if you subscribe to the Cincinnati Bell blog, you can be entered to win an Amazon Echo Dot! With an Amazon Echo Dot, you can listen to all your favorite podcasts.