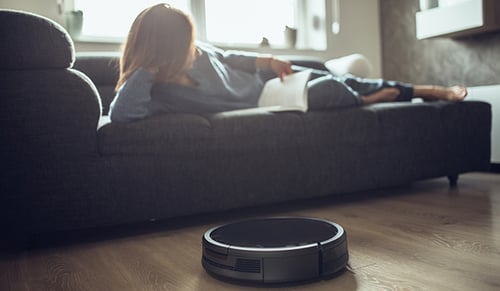 Today, everything in your home, from your TV to your toaster, can be "smart."
Smart devices have become so ubiquitous, that it's easy to feel overwhelmed by all the options (who needs a smart toilet paper dispenser anyway?). But, with 69% of U.S. households already equipped with at least one smart home device, and smart home sales expected to grow at double-digit rates annually for the next several years, it's safe to assume that if you haven't already purchased a smart home device, you probably will soon.
Amid the excitement surrounding the latest and greatest smart home devices, it's important to remember that smart home tech is all about adding convenience to your life through connectivity. In fact, in a survey conducted by CNET and Coldwell Banker, 57% of people say that smart products save them an average of 30 minutes a day, which adds up to around a week and a half of time a year.
With that in mind, here are some popular smart devices that can make your life a little easier and hopefully save you some precious time.
Video Doorbell
A video doorbell like the Nest Hello provides both convenience and security. The Hello will send a notification to your phone whenever motion is sensed on your doorstep. So not only will you know when deliveries arrive, but you will have video evidence should they disappear. The Nest Hello is also equipped with a speaker and microphone so you can communicate with visitors even if you aren't in the house. Pair this with a smart lock like the Nest x Yale Lock and you can even lock and unlock your door remotely to give visitors access.
Smart Thermostat
A smart thermostat like the Nest Learning Thermostat allows you to control the temperature of your home from your smart device or virtual assistant. Even better, the Nest Thermostat senses when you are not home and builds a program around your schedule lowering the temperature when you are away to help keep energy bills down. Independent studies have shown the Nest Thermostat has saved people an average of 10% to 12% on heating bills and 15% on cooling bills.
Robot Vacuum
Imagine waking up every morning to a freshly vacuumed home. With a robot vacuum like the iRobot Roomba 960, you can schedule your home to be cleaned at any time, day or night. Plus, you can customize how the Roomba cleans, choosing from one or two passes, final edge clean, and more. When it's done you can view a Clean Map report in the iRobot HOME app to see exactly where in your house your Roomba swept.
Smart Garage Door Opener
The thought always strikes just after you've gotten comfortable in bed: "Did I remember to close the garage?" With a smart garage door hub like the Chamberlain MyQ Hub, you can convert your existing garage door openers into a smart garage door opener. This means the next time that thought strikes, you can stay snug in bed and simply open an app on your phone to see whether your garage door is open, and then close it with the touch of a button.
Virtual Assistant
Of course no smart home would be complete without a virtual assistant to allow you to control all your devices via voice commands from a centralized hub. Google Home and Amazon Alexa are the major players in this space. Both are compatible with virtually any smart home product on the market and both are available in a variety of devices from puck-sized speakers that blend into any room's décor, to free standing speakers, to video monitors that can connect to video doorbells and security cameras.
---
Experience the Cincinnati Bell Difference
If you are interested in turning your house into a smart home, turn to the expertly trained team at Cincinnati Bell. Visit any of Cincinnati Bell's eight retail locations to browse a wide selection of smart home devices from trusted brands, and have your questions answered by knowledgeable associates. Cincinnati Bell also offers a connected home installation service where one of their authorized technicians will come to your home to help you install your devices and show you how to maximize their capabilities. Call 513.566.6981 or click below to schedule an appointment to speak with one of our connected home experts today.