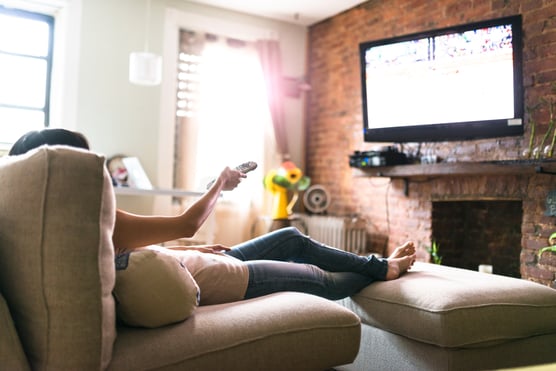 How often do you turn on a program and miss the beginning, or go to record a show but something else is already set? It is all too familiar and frustrating. However with Fioptics TV, you can rest easy. With a few clicks of your remote, you can access all sorts of cool features to enhance your viewing experience.
Restart TV – Everyone knows how important the beginning of a program is. Those key minutes set the tone, theme, and storyline for the whole thing. So when traffic or dinner get in the way of being on the couch in time, don't worry! Restart TV gives you the freedom to playback currently-airing programs from the beginning on select channels. These channels are identified in the guide by their background color. The traditional guide theme will show Restart TV channels in a darker color than non-Restart, and the transparent guide theme will display Restart TV channels in a transparent box. To initiate Restart TV mode, press the OK button on the remote while watching the program, then select Restart Program. Please note: All trick play (fast-forward, rewind, and pause) functionality will be disabled while watching Restart TV programs.
---
Catch Up TV – Catch Up TV allows you to go back three days to catch up on shows you may have missed. No need to set the DVR – just browse through the Catch Up TV programs and enjoy. To access Catch Up TV, go to the menu and scroll to the Catch Up option, from there you will see a list of the channels and shows that allow the feature. Available on over 40 channels including TNT, TBS, and more. Or, you can also access this feature from the Guide. To do this simply find your channel on the guide, scroll back until you find the show you want to watch, press OK, and select "Watch Now".
---
Guide at a Glance – Your TV Guide does more than just tell you what is currently on TV. Using different icons and colors, easily check out what is new, what channels are and are not part of your subscription, what shows and entire series are set to record on your DVR, and more. To access the guide, simply press the button on the remote labeled GUIDE. From there, you will be able to learn all sorts of things about your package and what's currently on.
Key:

---
Free Video On Demand – Did you miss the latest episode of The Masked Singer? Fret no more – go back and watch shows you missed in Catch Up with Video On Demand (VOD). VOD services are offered with any Fioptics TV package service. To access VOD, tune your set top box to Channel 1 or press ON DEMAND. When the VOD menu appears on the screen, you can select the category and content you wish to view.
---
Reminders & Auto Tune – It's 8:46 p.m. and you're finally sitting down for the evening to watch some much needed television. Only 14 minutes until This Is Us begins…yes! Time to channel surf and kill some time. Set a TV reminder to make sure you don't forget to switch over to NBC right at 9:00. You can set reminders to notify you 1, 2, or 5 minutes in advance. Or, using the Auto Tune feature, your set-top box will automatically tune to the channel at the scheduled time. You can create a new reminder or set an auto tune from the Program Guide by selecting the program and then selecting Set Reminder.
---
TV Everywhere – Sitting in an airport waiting to fly home? Waiting in the school pickup car line? Kick back wherever you are with your favorite shows on-the-go. Access some of the best shows, movies and live streams included in your TV subscription from your computer, smartphone, tablet, or streaming device. Just download the apps for your favorite networks, login using your Cincinnati Bell account information, and enjoy! Check out some of the awesome additional features available with TV Everywhere apps & the full lineup of channels.
---
Record up to 8 Shows at Once – You love to indulge in the weekly episode of The Bachelor, but it conflicts with Monday Night Football and also that show the kids want to watch. Hate dealing with the headache of fighting over what to record? Those days are over. Depending on the equipment in your home, you can record three to eight shows at once with no problems and watch on any TV in the house with whole home DVR.
---
Subscribed Channels – Have you ever selected a program to watch only to find out it isn't part of your subscription? With this feature, easily see what channels are and are not part of your package. Additionally, toggle between HD, SD, & All to see what type of channel it is. To see what channels you're subscribed to, simply press the Guide button. As you scroll through channels, on the left side above the number will be the word "Subscribed" or "Unsubscribed".
Happy watching!
Which of these Fioptics features did you not know about and are excited to try?
*Features may not be available on every set top box or in all areas.