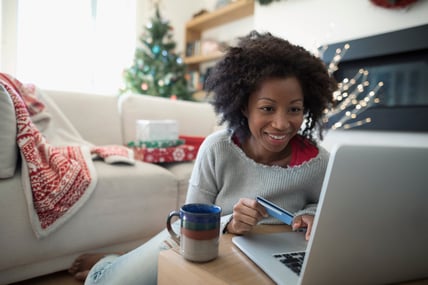 Millions of people worldwide enjoy Amazon Prime every single day. Most people join for the best-known perk of free 2 day shipping, but there are a lot more benefits that you may not even know about. You might be missing out on some really awesome features that come along with your Prime membership!
If you don't have Amazon Prime, you should definitely consider adding it to your personal Christmas list. There are all kinds of perks with Amazon Prime for shipping, giving back, photos, shopping, music, deals and rewards.
Download the Amazon App so you can receive all of these Prime benefits and control it from your phone.You can receive one year of Amazon Prime on Cincinnati Bell when you sign up for 1 Gig Internet + Preferred TV – enjoy bandwidth for the whole family, and everyone's favorite TV entertainment with 190+ channels.
Keep an eye out for our Editors Choice Perks indicated by *
Shipping and Delivery
Free Two Day Shipping: Your prime membership includes unlimited shipping and no minimum order threshold on over 100 million items that arrive two business days after they ship.
Free same-day and one-day shipping: On over a million items in over 8,000 cities, free same-day and one-day shipping is available. Make sure to check your zip code to see if these options are available near you.
Prime Now: Also enjoy free two-hour delivery on household essentials with Prime Now. Check your zip code to see if Prime Now is available near you.
Amazon Key in-home delivery: Prime members can opt-in for in-home delivery. When you purchase an Amazon Key Home Kit, Amazon will deliver your package right inside your home. You will receive notifications on the morning of delivery and just before your package arrives. It also works with Alexa when you enable the Amazon Key Alexa skill. Just ask Alexa to lock your door and check the status of your door.
Amazon Prime Rewards Visa Signature Card: This card gets you 5% back on Amazon.com and Whole Foods Market, 2% back at restaurants, gas stations, and drugstores, and 1% back on all other purchases. You will also get a $70 Amazon gift card instantly upon approval, and you can redeem your points on Amazon as well as for cash back, gift cards, and travel.


Family
*Amazon Household: Share benefits of Prime and digital content with your whole family at no additional cost. Two adults and up to four teens and four child profiles may link in a household. If you add a teen to your household, teens can shop on their own and parents can approve via text. Parents love being able to review the items, shipping and payment information via text or from your own account before shipping, as well as the ability to choose what card they can use, where they can ship and how much they can spend without needing prior approval. Teens love the freedom of shopping, streaming, and exploring Amazon from their own login. When you add a child, parents can manage parental controls and select what content they are able to see, set educational goals and time limits.
Amazon Family: Amazon Family is for families with newborns, toddlers, and young children. Receive email newsletters with parenting tips, product recommendations, and exclusive deals. With Amazon Family you also receive up to 20% off diapers, baby food and 15% Baby Registry completion discount.
Prime Book Box: This fun Prime perk is perfect for story time with the kids. Prime Book Box is a subscription that delivers hand-picked children's books every 1, 2, or 3 months. Each box contains 2 hardcover books or 4 board books. Prime Book Box also saves you up to 40% off List Price, and provides the best value on hardcover books sold by Amazon.

Give Back
Amazon Smile: Give back to your charity of choice every single time you purchase an item from Amazon Smile. When you shop AmazonSmile, the AmazonSmile Foundation will donate 0.5% of the purchase price of eligible products to the charitable organization of your choice. The AmazonSmile website is operated by Amazon and still has the same products, prices and shopping features that you love.
* Give Back Box: Amazon has partnered with Give Back Box so you can reuse your amazon prime box to give back for free. It is so much easier than you think to make a difference! Go to the Give Back Box website to print a shipping label, fill the box with items you would like to donate, and start giving back. Reuse your online shipping boxes in which you received your purchases, or any other cardboard box you may have, to donate your unwanted household items: such as gently used clothing, shoes, etc., to make a major difference in the life of another person.

Reading & Listening
Kindle Owners Lending Library: If you own a Kindle and are an Amazon Prime member, you can choose from more than 800,000 books to borrow for free with no due date. The Kindle Owners Lending Library includes all 7 Harry Potter books, and more than 100 current and former best sellers.
Amazon First Reads: Enjoy early access to editors' picks, one free kindle book each month and hardcovers for $9.99 or less. Check out the previous Amazon First Read editor's picks.
Audible Channels: For Amazon Prime members, you can download the free Audible app on your device for exclusive original audio series, plus playlists handcrafted for every interest.
Prime Music: Prime Music provides ad-free access to curated playlists and personalized stations, plus more than over two million songs and albums at no additional cost for eligible Prime members. Enjoy this Thanksgiving weekend playlist on Prime Music.

Video
* Prime Video: You can watch thousands of movies and TV shows at no additional cost with Prime Video. Prime video offers Award Winning Original Series like The Marvelous Mrs. Maisel, Transparent, Catastrophe, and Sneaky Pete. Prime video is available on countless devices, such as iOS and Android smart phones and tablets, some smart TV's, any Amazon Fire TV devices, Roku, Xbox and PlayStation.

Photo
Free Amazon Print Delivery: Not many people know about the Amazon Print feature. If you have Amazon Prime, you can purchase Cards, Wall Décor, Photo Gifts, Photo Books, Calendar and Prints and receive free delivery. Right now, you can save 30% on all Custom Wall Prints.

* Amazon Photo: If you have Amazon Prime, you can save an unlimited full-resolution amount of photos. You also get 5GB free video storage. You can save and share photos on desktop, mobile, and tablet and access your photos anytime from anywhere. With this deal you can share unlimited photo storage with up to 5 people. Use the iOS or Android mobile apps to auto-save your photos, then safely delete them from your phone to free up space on your device.

Deals and Rewards
Early Access to Amazon Lightning Deals: Prime Early Access gives Prime members 30-minute early access to Lightning Deals on Amazon.com. See what today's Amazon deals are today. There are new deals and lightning deals every day.
No Rush/ Free rewards: Prime Members can get a little extra something with free no-rush shipping. When you select FREE No-Rush Shipping at checkout, you will earn rewards on future purchases or receive discounts immediately, simply for agreeing to receive your order in 6 business days.
Amazon Sample Box: This is an interesting perk of Amazon Prime. Exclusive for Prime members, there are a variety of sample boxes to choose from. Once you choose a sample box, you get an equal credit back for a future purchase. It's a nice want to try products first before you buy them.
Free Release-Date Delivery: You can be the first to purchase anticipated releases and pre-order items such as video games, books, music, movies, and more. Choose Release-Date Delivery at checkout on qualified items, and your package will be delivered on the release day by 7pm.

Amazon Shopping
Prime Wardrobe: Have you ever been clothes shopping online and wondered why you have to pay for clothes before you try them on? Well Prime Wardrobe lets you pick three or more items across clothing shoes, and accessories, try-on the best style and fit at home, and then check out online. The resealable box and prepaid label makes returns simple as well.
Outfit Compare: Get a second opinion about what to wear by using outfit compare. This is a free service for prime members to upload two photos of yourself wearing different outfits and a fashion specialist will review your looks and answer based on what's in style and what looks good on you.

On the Amazon App
Amazon Exclusives: Discover unique and innovative products from emerging brands.
Search through Holiday gift guides to find the perfect product.

Amazon Spark: Amazon spark is a place to discover things from people who share your interest. Whether you are looking for inspiration for home décor or seeking advice, Spark makes it easy to discover – and shop – ideas from a community that likes what you like.

Gift Finder: The gift finder is a great tool that you can access from the app or a desktop. Find the perfect gift for any age group and any price range.
Interesting Finds: Search through Amazon's Interesting finds to find fun and unusual items by category.

Subscribe & Save: Subscribe and Save is a prime-only service that helps you save up to 15% on recurring purchases. The more products you add the bigger the discount.

Early Black Friday Deals: Just in time for Black Friday, Amazon also has deals of the day. It is updated every day with limited-time deals.

Bargain Finds: Bargain Finds allows you to explore products for any budget. While looking through items, bargain finds prices include estimated shipping.

Giveaways: Amazon has chances to win prizes daily with no purchase necessary. You could be the next winner!
Speaking of giveaways; subscribe to the Cincinnati Bell Blog and be entered to win an Alexa Show!
Now that you know what Amazon Prime can offer you, receive one year of Amazon Prime on Cincinnati Bell when you sign up for 1 Gig Internet + Preferred TV – enjoy bandwidth for the whole family, and everyone's favorite TV entertainment with 190+ channels.
There is no longer a need to question if Amazon Prime is worth it. Try out some (or all) of these features from Amazon Prime and let us know your favorite perk!