Black History Month is an annual observance each February to honor the legacy, contributions and historical culture of African Americans; however, educating yourself should not be limited to just February, but every month beyond.
Get started with the resources below!
Local Black Leaders and Organizations
There are many individuals who make a real impact in Cincinnati through mentoring, art, and more.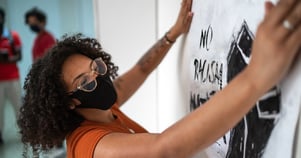 National Black Organizations
If you're looking to make an impact or network professionally on a more national level, check out this list of organizations:
The NAACP stands for the National Association of the Advancement of Colored People. This organization is crucial to driving change and equality. Become a member to stand up for injustices across America.

T

he National Association of Black Accountants

has over 7,000 members across the country. NABA provides a platform for Black professionals to get engaged and empowered to excel.
The National Black MBA Association

is the

largest

network of Black professionals! NBMBAA has a Cincinnati, Dayton, and Louisville chapter to join and grow locally, too.
The Black Data Processors Association

focuses more specifically on individuals in the fields of information technology, computer science, and all S.T.E.M. Get involved with the largest Black technology organization to contribute to the future of the IT industry.
altafiber is excited to push ourselves beyond and continue our focus on diversity and inclusion beyond Black History Month. Join us by supporting these individuals and organizations!
If you would like to learn more about BOLD, altafiber's Black employee resource group, visit our site.