If you're a tech fan or just someone who likes to stay up-to-date on the latest gadgets, Christmas doesn't come in December, it comes in January with the annual Consumer Electronic Show (CES). This year's CES wrapped up on January 7 and while Cincinnati Bell wasn't able to send anyone to attend in person this year (fingers crossed for next year), we kept a close eye on all the announcements, demos, showcases, and trends that had the tech world buzzing. These are the trends and device highlights that stood out to us.
The smart home keeps getting smarter
If you feel like there's already a "smart" version of every household product, think again. CES was full of new and improved smart home products from toothbrushes and bathtubs, to mattresses and kitchen faucets all to designed to enhance our humble abodes.
Smart lights and cameras have been around for years, but if CES 2022 is any indication, there's still big demand for these products, as well as room for further innovation. Take for instance, the Eufy Video Doorbell Dual that incorporates two cameras – one in the traditional position to capture images of visitors and another pointed down to monitor packages left on your doorstep. And, if another video doorbell isn't enough to peak your interest, how about an entire smart front door! Offered by Masonite the M-Pwr Smart Door incorporates a video doorbell from Ring; a smartlock from Yale; programmable, motion-sensing LED lighting; and sensors to notify you if your door is opened or closed.
Smart lighting took a surprising step into the health and wellness space with the introduction of Sengled's new smart light bulb, which features radar technology that enables it to track biometric vital signs such as heart rate and body temperature among others, as well as sleep tracking. Installing multiple bulbs throughout your home can create a mesh network that could monitor human behavior and even detect whether someone has fallen and needs help. Sengled's smart bulbs are expected to be available by the end of 2022.
While there were many other smart devices for every room in the house, one more that caught our eye from a design standpoint was the SOUND MIRROR from ICON.AI. Essentially a bathroom mirror with a built in speaker, the SOUND MIRROR connects to your home Wi-Fi and can be controlled with Alexa Voice to play music, news, podcasts, or control other smart home devices. All that's left is to set up an Alexa routine that begins with "Mirror, mirror on the wall…"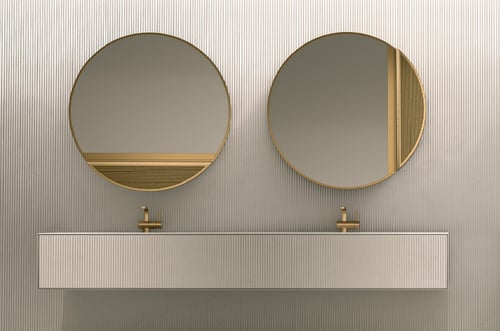 Smart tech, not just for humans anymore
Another emerging trend we noticed was the prevalence of products related to our furry (and feathered) friends. Petnow is an app that lets dog owners identify their pets by the unique pattern of wrinkles on their noses just like a fingerprint and is positioned as an alternative to implanted microchips. Wagz, makers of the Freedom Smart Dog Collar, announced that in March they will launch Tagz, Bluetooth-enabled tags you control with an app and place throughout your house to create an invisible barrier to keep your pooch out of areas you want off limits like the couch or a bathroom. When a dog gets too close to a Tagz barrier, the Wagz collar emits ultrasonic sounds or vibrations to deter them from entering the area.
Another animal-related item of note was the Bird Buddy Smart Bird Feeder. Essentially a bird feeder equipped with a Wi-Fi connected camera, Bird Buddy not only notifies you when you have a visitor at your feeder, but will also automatically take a picture of the bird, identify the species and save it in a personal album. Kind of like Pokémon...but with birds.
Health products that went viral
The health and fitness category continues to be a big focus for consumer technology. CES 2022 featured the announcement of two new smart fitness watches by Garmin; a preview of a new health-tracking ring by Movano for those people who don't like the look of a sports watch or just want a less conspicuous wearable; and the debut of Lightboxer VR, a beat-driven boxing game that looks sure to get your blood pumping via fun and challenging workouts guided by personal trainers.
There were also several products influenced by and designed for a world still dealing with the impacts of the COVID-19 pandemic. One example were the smart air quality monitors by Airthings, which are equipped with sensors to detect the presence of radon along with other irritants in the air most likely to trigger allergic reactions, asthma attacks, or respiratory issues. Airthings' View Plus device even incorporates pollution and virus monitoring capabilities.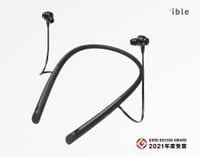 In the same vein, the ible Airvida E1 is being marketed as the first wearable air purifier with built-in headphones. The device adds an audio component to ible's certified wearble ionic air purifier technology, which produces negative ions around the user's face which attach to particles in the air (including viruses) making them heavier and causing them to fall to the ground before they can be inhaled.
What's yet to come for consumer tech
Many companies use CES as a showcase to reveal experimental prototypes and demonstrate the future applications of their technology. Here are three that particularly stood out:
Smart contact lenses – Mojo Vision shared its progress on the development of a smart contact lens that would not only help correct vision problems, but use an embedded display to show notifications and other information. The company announced it has now entered into several strategic partnerships with brands like Adidas Running, Slopes, and 18Birdies, which could make this project a competitor not only in AR/VR market, but also the sports and fitness wearable market.
A car that changes color – At first glance the BMW iX Flow appeared to be just another electric vehicle on display at CES 2022, but with the push of a button iX Flow can change it's exterior color. Using panels equipped with E Ink technology (commonly seen in e-readers) the car currently only transitions between black and white, but the future implementations of this technology could include the full spectrum of colors – as well as text – on all or parts of the car.
Ameca the humanoid robot
– Despite numerous sci-fi movies warning against it, tech companies continue to work toward perfecting a robot resembling a human. The latest iteration in these attempts is Ameca created by UK-based Engineered Arts. Words can't do it justice. You just have to see it for yourself.
These are just the tip of the iceberg. More than 2,200 exhibitors participated at CES 2022 each with products demonstrating the new and exciting ways technology will continue to permeate and enhance our daily lives. The one thing they all have in common? The need for reliable connectivity.