Along with the rest of the world, the Cincinnati region has welcomed it's newest expert: ChatGPT. ChatGPT, and now GPT-4, are OpenAI's most advanced systems trained to understand and respond to human language and questions. With tools like ChatGPT, machine learning, and Siri or Alexa, AI (Artificial Intelligence) has become more accessible and convenient for everyday use.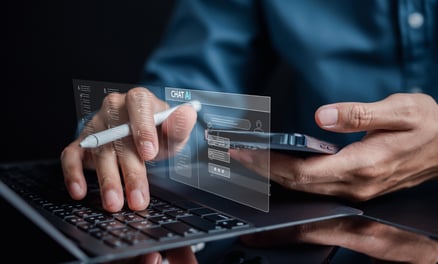 By simply visiting https://chat.openai.com, you can ask ChatGPT any question, and receive an answer for it under a minute. For example, "Give me 5 easy ways to become more sustainable." Or, "List the presidents in order from youngest to oldest." Or you can be more specific like, "Write a 500 word essay on why technology has changed the world. Include a paragraph on Apple products specifically." ChatGPT and GPT-4 have even passed the bar exam!
So, we put it to the test. Sure, ChatGPT can code and list off stats, but what does it have to say about our hometown city? We asked it to, "Write a blog with 250-300 words about Cincinnati, Ohio's traditions."
See what it generated:
---
Cincinnati, Ohio is a city steeped in tradition and history, from its industrial roots to its distinctive local cuisine. Visitors to Cincinnati will quickly discover that the city has a unique character and a deep sense of pride in its traditions.
Perhaps the most famous of Cincinnati's traditions is its culinary scene. The city is known for its distinctive local dishes, including Cincinnati-style chili, which is a savory sauce made with spices like cinnamon and served over spaghetti. Locals also love their goetta, a type of sausage made with pork, oats, and spices. Another Cincinnati favorite is Graeter's Ice Cream, which has been a local institution since 1870 and is famous for its rich, creamy texture.
Beyond its culinary traditions, Cincinnati is also home to many historic landmarks and cultural institutions that reflect the city's rich history. The Cincinnati Zoo and Botanical Garden, which first opened its doors in 1875, is one of the oldest and most respected zoos in the country. The Roebling Suspension Bridge, which spans the Ohio River and connects Cincinnati to Covington, Kentucky, is another iconic landmark and a testament to the city's engineering prowess. Meanwhile, the Cincinnati Art Museum boasts a collection of more than 67,000 works of art spanning 6,000 years.
Finally, no discussion of Cincinnati's traditions would be complete without mentioning the city's love of baseball. The Cincinnati Reds, one of the oldest and most storied franchises in Major League Baseball, have been a fixture of the city's culture since the team's founding in 1869.
In conclusion, Cincinnati's traditions are a testament to the city's unique character and deep sense of history. Whether you're exploring the city's culinary scene, visiting its historic landmarks, or cheering on the Reds, there is much to discover and appreciate in this vibrant and welcoming Midwestern city.
---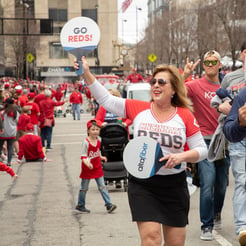 Pretty spot on, right? And well written. If you're a Cincinnati native, you likely already experience these traditions, but it's always good to know that ChatGPT is here to inform you, if not! OpenAI has and will continue to change the technology industry, along with healthcare, education, agriculture, and many more industries.
Speaking of the Reds...Enter to win tickets to an upcoming game in the 2023 season by subscribing to our blog below. *Terms and Conditions