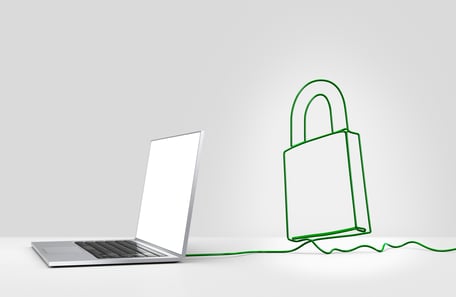 Halloween, Breast Cancer awareness month, and the unofficial Pumpkin Spice season all fall into October. Did you know October is National Cyber Security Awareness month too?
National Cyber Security Awareness month was launched in 2004 by the Department of Homeland Security to make sure all Americans have the knowledge and resources to keep their information secure. This annual campaign stresses the importance of cyber security, as the Internet is now an integral part of most aspects of daily life.
Protecting yourself from most cyber security threats is as simple as being aware of those threats and taking a few simple precautions. We are now going to focus on two of the most common ways cyber criminals attempt to gain access to your personal information.
Public Wi-Fi
Using public Wi-Fi is a great way to preserve your cellular data and ensure a stable connection to the Internet when out in public, but that convenience often comes at the cost of security. As a result, public Wi-Fi is a popular gateway for attackers to steal information, often through the distribution of malware or the use of fake Wi-Fi networks.
There are a number of free applications , like SEP Mobile, that can be downloaded to cell phones that will that alert you to suspicious Wi-Fi networks and activity on your device. You can download the app from the App Store and Google Play. Furthermore, the Department of Homeland Security recommends these simple tips to protect your devices:
Think before you connect
Use your own mobile network connection first
Avoid sensitive activities on a public network
Keep software updated
Use strong passwords
Disable auto-connect features and always log out of the connection
Ensure websites are encrypted (use https://)
Malware
Malware (short for "Malicious Software) is another popular tactic used by cyber criminals. Malware is essentially any software installed onto your device – laptop, tablet, mobile, etc. – that compromises the safety and security of your device and gives criminals access to personal or company information.
Malware can be implanted onto your device via fake Wi-Fi networks, but more commonly it is distributed by tricking victims into clicking on an fake link in seemingly legitimate emails and webpages. This deceptive technique is called "phishing."
To combat phishing and the spread of malware, the Department of Homeland Security recommends:
Keeping a clean machine by keeping your software up-to-date
When in doubt, throw out suspicious links
Think before you take action from any immediate or to good-to be true offers
Make passwords longer and stronger
Use stronger authentication
Back up your system
Install and update anti-virus software
Be wary of hyperlinks
In a society where so much of our daily routine relies on connecting to the Internet, it's important to be aware of the dangers and implement simple preventative measures.
As your hometown Internet provider, Cincinnati Bell want to be sure you're protected from cyber threats. Internet Security and Antivirus protection from Cincinnati Bell offers protection against viruses, spyware, spam, phishing, and identity theft. That's why we are currently offer Free Internet Security for only $4.99/mo.
Download free tip cards from the U.S. Department of Homeland Security for more details about cyber security.