Vacation season (and hot weather) is upon us! Whether you're traveling for birthdays, concerts, or much needed beach time—don't overlook your home security. There are plenty of smart devices that allow you to keep your house and family safe, right at your fingertips.
Check out our top nine devices listed below that you can have up and running before your next summer getaway to ensure your home's security. Each of these can be found at your local altafiber store and customers can take advantage of our interest-free installment billing for up to two years.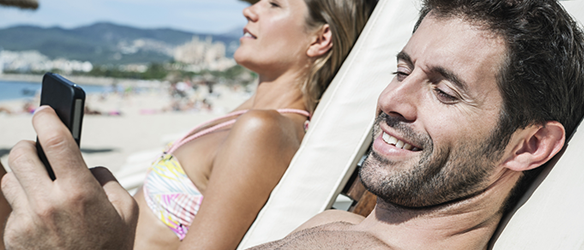 Nest Doorbell: $179.99
This video doorbell captures HD video and images, day and night. The doorbell is designed to show you packages being delivered, people coming and going, head-to-toe shots of who is at your door, and more. This doorbell acts as the ultimate bodyguard for your home with 24/7 streaming, standard and specialized alerts, and the ability to speak through the doorbell via your phone.

Nest Cam IQ: $179.99
The Nest IQ Cam has an Indoor and weatherproof Outdoor version. These cameras use "super sight" technology, which can detect a person up to 50 feet away and send you a picture of who is there. The 4K sensor displays various camera angles, allows for zoom, and recognizes familiar faces. Know what is happening at your home, even if you are 1,000 miles away.
Nest x Yale Lock: $279.99
Already on the road and forgot to lock your front door? No worries. This tamper-proof, key-free deadbolt lock connects to your Nest app so you can lock and unlock your door from anywhere with the touch of a button or your voice. Plus, assign temporary unlock passcodes and receive alerts when someone tampers with your door.
Nest Connect: $69.99
You can connect this to your Nest Secure Alarm System or the Nest x Yale Lock to boost the signal of your security system. The Nest Connect is helpful for larger homes or any areas that may be in a dead zone.
Echo Show 15: $279.99
This mountable Alexa display not only helps you with everyday tasks but can also keep your home safe. Activating Alexa Guard will enable the device to listen for sounds while you are gone, like shattering glass, and will trigger alarms, like barking dogs, if a break-in is suspected. You can also watch through the Echo Show's camera from your smartphone, with a 24/7 emergency hotline ready at your disposal.
TP-Link Wi-Fi Mini Plug: $19.99
In a rush and didn't get to turn off your lights before leaving for the weekend? If you connect your interior lights to a TP-Link smart plug, you can save energy and money by controlling the lights remotely from your phone with the Kasa Smart App. You can also automatically switch on or off your lights while you are gone to give the impression that someone is home.
Ring Floodlight Cam Wired Plus: $179.99
This motion-activated security cam includes a camera, floodlight, speaker, and siren— all controlled with your smartphone. There is a flash setting and 1080HD wide-angle video, too!
Ring Spotlight Cam: $199.99
Get real time audio and video from your phone at anytime and anywhere. With customizable alerts and motion zones for certain areas of your yard, this HD security camera ensures you hear or see anyone on your property.
---
We promise these devices will give you peace of mind while you are away. So, let loose and leave stress behind on your next vacation! Visit an altafiber store or our Connected Life Catalog to browse our wide array of products.