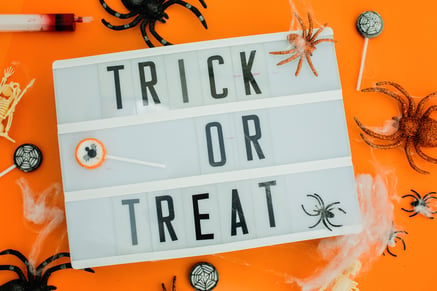 October is finally here and there is no better way to kick off the fall spirit than by putting on a sweater, grabbing your favorite candy and having a Halloween movie marathon.
Luckily for you, we've put together a comprehensive list of when and where to find all your favorite Halloween chills and thrills.
Sweet and Spooky
Freeform's 31 Nights of Halloween 2018:
Prepare for 31 spooktacular nights of Halloween with these featured movies below starting October 1st.
The Nightmare Before Christmas – Jack Skellington, king of Halloween Town, opens a portal to Christmas Town and decides to celebrate the holiday,. Little does he know that Christmas will get its own spooky twist. "This is Halloween" so enjoy the 25th Anniversary Release of Nightmare Before Christmas on October 29th.
The Goonies – The Goonies set about on an adventure of every kid's dream: to find a hidden treasure. When they run into the Fratellis, the neighborhood criminals, they get more than they bargained for.
Hocus Pocus - The Sanderson sisters are up to their tricks and it's up to Max and his friend (although he wishes it was more) to save his little sister Dani from Salem's most mischievous witches.
Fioptics channel: 547 HD / 47 SD
Disney Channel's Monstober:
Get ready for some family friendly spooky Halloween fun with the return of Monstober! Tune in to catch Halloween themed episodes of Disney channel series which includes Raven's Home, Big Hero 6 The Series and Bizaardvark. This year's lineup also includes fan-favorite movies throughout the month including Halloweentown and Twitches.
Fioptics channel 549 HD / 49 SD
Plus, treat yourself to free Disney Halloween Programming On Demand, including Monsters University, Hocus Pocus, and The Haunted Mansion.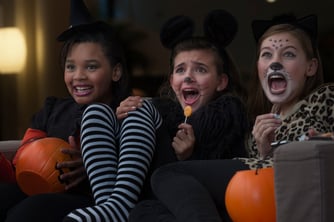 Halloween Wars:
Six teams of cake masters, sugar artists and amazing pumpkin carvers will compete to prove they are the best in the ultimate Halloween baking competition. Bring your appetite because the cold night of Halloween is about to get heated up.
Sundays nights at 9pm on Food Network, Fioptics channel 562 HD / 62 SD
Halloween Craziest:
This special features the most terrifying, extreme and absolute best of what Halloween has to offer. From America's scariest, haunted house in San Diego to British Columbia's pumpkin drop celebration, each destination is more frightening and fun than the last.
Travel Channel, Fioptics channel 559 HD / 59 SD
Monsters, Gore, & More
AMC's FearFest:
This year's Fearfest will feature classics from franchises like Scream and Friday the 13th, as well as individual terrifying flicks including Carrie and Annabelle. A huge focus of FearFest this year is arguably the most iconic horror movie franchise in history, Halloween. Catch Michael Myers return to Haddonfield, as his stories will be shown throughout the event. This year's Fearfest will feature more than 60 films running from mid-October through Halloween Night.
Fioptics channel 538 HD / 38 SD
SyFy's 31 Days of Halloween:
All October, SyFy is bringing you the scariest, creepiest, and most ghoulish programming to get you in the Halloween Spirit. This year's event has content like Dead in the Water as well as Hollywood horror films including Jeepers Creepers, Insidious and The Purge.
SyFy, Fioptics channel 538 HD / 34 SD
TCM's Classic Horror Marathon:
Celebrate some of the most iconic films from the '30s to the '60s, with films like The Mummy, House of Wax and The Haunting. It's been 200 years since Mary Wollstonecraft Shelley created her novel Frankenstein in 1818 and TMC is celebrating! TMC will honor the terror that the monster has unleashed for several generations with all of the Frankenstein films starting with Son of Frankenstein (1939) to the premiere of The Frankenstein Myth (2018).
Tuesdays in October, Fioptics Channel 534 HD / 34 SD
Season premiere of The Walking Dead:
It's the start of a whole new world, Rick Grime's final episodes begin in Season 9. Premieres on AMC on Sunday, October 7th at 9pm.
Fioptics channel 533 HD / 33 SD
Simpson's Treehouse of Horror XXIX:
It wouldn't be Halloween without the annual The Simpson's Halloween special on Fox. This year's 29th annual Treehouse of Horror episode will include spoofs of Jurassic World and Invasion of the Body Snatchers.
October 21st on Fox, Fioptics, channel 503 HD / 3 SD
You don't want to miss these great Halloween Videos On Demand from Cincinnati Bell, including
Cynthia
Don't Open Your Eyes
Eyes of the Dead
Puppet Master: The Littlest Reich
A Quiet Place
Carrie
Minutes to Midnight
The Strangers: Prey At Night
The First Purge
Now Playing On Demand – For Purchase:
Hotel Transylvania 3: Summer Vacation
Monsters, Inc.
Frankenweenie
Gremlins
Coraline
E.T.
The Haunted Mansion
Hotel Transylvania
Monster House
And Coming soon…
Unfriended: Dark Web – 10/16
Slenderman – 10/30