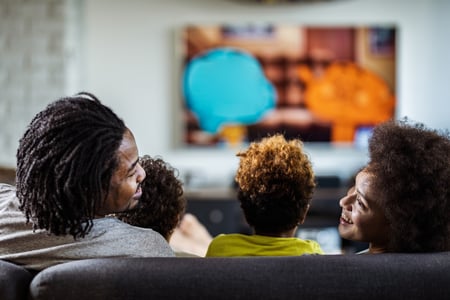 Although people today have a variety of options as to when and where they can consume TV content, for many people the tradition of sitting down on the couch and watching a favorite program with friends and family is still a popular way to spend quality time together. However, settling on what to watch can sometimes still be difficult.
Here is a list of special features available to Fioptics TV subscribers to ensure no one misses their favorite show, even if it isn't their night to pick what to watch.
Restart TV - Distractions happen and sometimes you aren't able to start a show until after it has started. Restart TV allows you to playback currently-airing programs from the beginning on select channels. The restart channels are indicated in the Fioptics guide by their background color (traditional & transparent). The traditional theme will show Restart TV channels in a darker color than non-Restart, and the transparent theme will display Restart TV channels in a transparent box. To initiate Restart mode, press the OK button on the remote while watching the program, then select Restart Program.
CatchUp TV - Another feature for the busy individual is CatchUp TV. Sometimes during all the chaos of everyday life, you forget to set the DVR and miss your favorite shows (like The Voice or The Bachelor). Don't worry, with CatchUp TV, you can go back three days to catch up on shows you may have missed. To access CatchUp TV, go to the menu and scroll to the Catch Up. From there you will see a list of the channels and shows that allow the feature. Available on over 40 channels including TNT, TBS, and more. You can also access this feature from the Guide. To do this simply find your channel on the guide, scroll back until you find the show you want to watch, press OK, and select "Watch Now".
TV Everywhere - This TV feature is the best for when you are out and about and want to access your favorite shows, movies, or live streams included in your TV subscriptions from your computer, smartphone, or tablet. Maybe you are waiting to pick up your kids from school in your car, or you are trying to get grocery shopping done and the little one won't stop crying. TV Everywhere allows you to watch your favorite shows on-the-go. Just download the apps to the channels you like, login using your My Cincinnati Bell account information, and watch your favorites! Check out the full lineup of TV Everywhere apps that are available with your Fioptics subscription.
Record shows on DVR - Sometimes it feels like everyone in the family has a different show they want to record and sometimes they are at the exact same times. With whole home DVR you can record up to three shows at once and watch on any TV in the house. You can also record two other programs while you watch a current program.
Set up Parental Controls - As a parent, you always worry about the content that your children are consuming while watching TV. Are they watching too much TV? Are they watching age appropriate channels? With Parental Controls, you can control what they watch, how much they see, and when they can watch it. To enable Parental Controls, you will need to create a 4-digit PIN code to ensure that only those with the PIN code can enable, disable, or make other changes to the Parental Controls. Press the MENU/SETTINGS button on your remote, scroll left or right to "Settings", and enter your PIN code. On the More Settings screen, you can choose whether to block certain channels, ratings, or times. You will be able to block television use on specific days and dates. You also have the capability to display or hide those blocked titles in your Program Guide.
*Some features may not be available on every set top box or in all areas.
Whatever your traditions may be, this guide will help you maximize your Fioptics TV package.