Whether you are virtually learning, working from home, or simply reaching out to loved ones via Zoom, cybersecurity plays a factor in your family's lives. With the right approach and tools in place, your family can safely use the internet. Below are 9 ways to ensure your family's protection from Internet "bad guys" and inappropriate or malicious material online.
---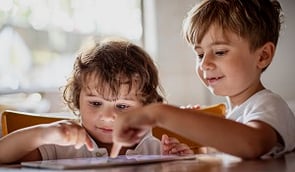 Keep your devices up to date: This is one of the most simple, yet effective ways of avoiding vulnerabilities that make it easier for hackers to reach your family's information. We encourage you to educate your children on how to update software on their devices, as well.
Password protection: How many times have you been told to change your repetitive passwords into more complex and unique passwords? We've all been there. If you can't seem to remember random lines of numbers and letters for each password, try longer paraphrases that are specific to one website or app, such as "maryhadalittlelambfacebook".
Multi-Factor/2-Step authentication: We know this can take some getting used to, but it is well-worth the extra step. A second form of authentication acts as a second wall against a hacker who may have access to your family's passwords from another data breach.
Cover or deactivate your camera when not in use: Although it would take a very advanced hacker to access your information through your device's camera, this tip is easy to take part in. Some devices already come with an attached slider to simply cover your camera when not in use, but if yours does not, there are plenty of affordable covers/sliders available on Amazon and elsewhere.
Add DNS (Domain Name Service) filters: Services such as OpenDNS and CleanBrowsing automatically provide web and app content filtering for all devices on your network.
Backups and cloud storage: Kids, and even adults, often delete important things on accident. Make sure your devices and data are backed up using an app like Dropbox or the Cloud so you can recover and keep safe any important material.
Use parental and screen time controls: Today's technology provides multiple ways to limit the content your children see, or how much they see. Even adults can take advantage of the IOS "screen time" feature, which shows how much time you spend each day looking at your devices' screens. Click the image to the right to watch our TikTok tutorial for how to do this on your iPhone. If you have a Windows device, simply go to Settings then Windows Security to see Family Options for app and time controls.

"Content & Privacy Restrictions" is also under that "Screen Time" section of Settings if you would like to block inappropriate content from your kids phones.
Get an extended warranty: Kids need their devices to be highly portable, especially as they move back and forth from in-person to virtual learning. You also want your family's devices to be properly working for a long time, and a warranty guarantees both.
Talk with your kids: This is probably the easiest tip on this list, yet the one that most parents tend to skip over. Your kids are more likely to cooperate if they know what Internet "bad guys" want, what malicious content can do, and how important it is to stay safe on the Internet. Teach your kids more about cybersecurity and Internet safety each month so they become equipped to be responsible and responsive on their devices.


---
In this day and age, everyone will be using the internet whether we like it or not. Follow the 9 steps above to help ensure a safer cyber experience for yourself and family. To learn more about some of the largest cybercrimes today, read our blog 6 Ways to Spot a Phishing Email.