How many of you have heard the phrase, "New Year, New you"? With a new year comes resolutions, of which the most popular one, year over year, is getting in shape. In preparation for this resolution, your friends Ryan & Alex from Cincinnati Bell's Connect Cincinnati took on a 30-day fitness challenge to show you how you can work on your fitness this New Year.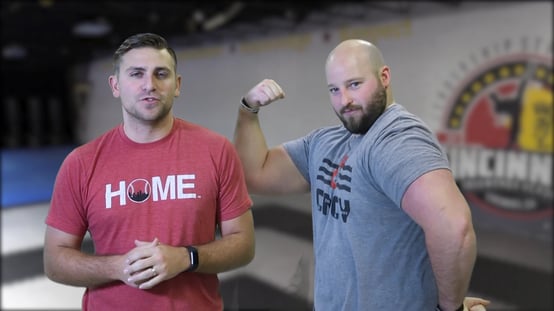 Starting on December 1st, 2018, Ryan and Alex completed morning workouts six days a week at the gym 1More Rep in Cincinnati. 1More Rep is a gym that offers bootcamp classes and climb classes, which feature the "Versa Climber". One of the cool things about this gym is that although sessions may use some of the same techniques, every session is different, which will keep your body from getting used to the same routines and keep your workouts from getting stale.
During the week, Ryan & Alex would do bootcamp three times a week, Climb sessions twice, and boxing once. In addition to working out daily, the pair also adapted a healthy, carbohydrate conscious diet and completely cut out things like alcohol and saturated fats.
This was an especially hard month to take on this challenge, as it was December and I'm sure we all understand the classic holiday over-indulgence. Ryan and Alex's main goals included losing weight, improving overall fitness levels, and sticking to the daily challenge of getting up and completing an early morning workout.
According to Ryan, his, "least favorite part of the experience was waking up. Especially in winter no one wants to leave a nice warm bed to go workout, but it is always worth it"
Over the course of the month, the pair discovered things they liked and disliked, and were able to see real, impressive results. Ryan lost 10 pounds and 2.5 inches around his pectorals. Alex lost 15 pounds, and 3.5 inches on his abdomen.
When asked about choosing this tough month, Alex said, "At first it seemed like it was going to be next to impossible to keep up for the entire month (#Deathcember), but I had high hopes and lofty goals. I learned to motivate myself with small accomplishments each day, which really helped get myself in a rhythm and build better habits."
Some pieces of advice they both agreed on are that being healthy doesn't mean the same thing for everyone, and finding balance is key. Plus, using the scale as a tool is good, but not everyday and not as the only factor of success.
Ryan contributed that his "favorite part about this whole experience has been feeling healthier and having more energy. Even after a week of working out I noticed a difference in my energy levels."
Check out the video the pair created, documenting their experience over the course of the month. Get a better idea of what some of the workouts looked like, and hear from Ryan and Alex themselves.
Although the results don't lie, if you still need a little extra push, 1More Rep is offering 50% off unlimited memberships for the rest of January through the Connect Cincinnati app! Simply download the Connect Cincinnati app, search "1 More Rep", and you will receive half off of your unlimited membership for the month from your starting date.
If they could do it, you can too. Take charge of your fitness in 2019, and start feeling great!