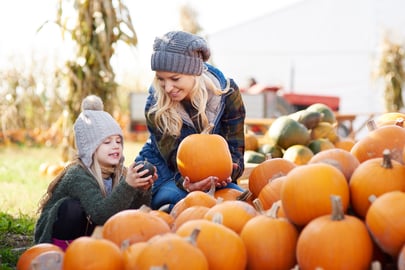 Fall has hit full force and you might be thinking there isn't much to do in Cincinnati now that the days are shorter and the air is becoming chilly. However, that just isn't true. Cincinnati has tons of events happening just in time for fall break. You have worked hard and have earned a well-deserved staycation. Whether you want to bring the kiddos along, relax at a happy hour, get ahead on projects, exercise before the holiday season begins or simply attend a fun event, get ready for your next Cincinnati adventure.
Your fall break doesn't have to be boring or expensive, so make it exciting with these events. Cincinnati has exactly what you are looking for! Just take a look at the Connect Cincinnati app which has a full list of fun events, sweet deals, and free Wi-Fi hotspots.
Bring the Kiddos:
Prepare to be the #1 parent, coolest sibling, favorite grandparent, or best babysitter of all time when you take your kids to any of these events.
At Home in the Garden at Krohn Conservatory: Surround yourself with the sweet smell of chrysanthemums, asters and verbena at the Krohn Conservatory's 2018 Fall Show. This free event is blooming now through October 21st and is open Tuesday through Sunday 10:00am – 5:00pm.

Jack O'Lantern Junction at Entertainment Junction: Now through the end of October enjoy Halloween with a kid-friendly maze, indoor Pumpkin patch, and a mini animated display. There is fun for the whole family as an added bonus, kids get a free mini pumpkin!
Mermaids Return To Newport Aquarium: Mermaids are returning to Newport Aquarium for a limited time only event, now through October 14th. Witness mesmerizing real-life Mermaids swimming throughout the aquarium with their tropical fish friends! You can even make friends with a Mermaid in Shark Ray Bay or experience Mermaid Cove where a mermaid can swim right up and meet you!
Story Tree Time at the Cincinnati Museum Center: Bring your little ones and enjoy the magical world of storytelling with a new story every Wednesday at 11:00am. Watch out for special guests from The Children's Theatre of Cincinnati who will provide appearances by characters from their upcoming shows.

Carol Ann's Carousel: Take a spin on Cincinnati Park's Carol Ann's Carousel and enjoy different events such as Whirlin' Good Time Day, Comic Mania, and Trick or Treat Event. The fun starts every Wednesday at 11:00am.

Fall-O-Ween at Coney Island: Carve out some time with your pump-kids this fall at Fall-O-Ween with rides, shows, hayrides and a petting zoo. This event starts on Saturday, October 13th at 11:00am at Coney Island.

The Great Pumpkin Fest at King's Island: Guest of all ages will enjoy Halloween-themed festivities including live entertainment, mazes, trick or treating and so much more! The fun starts on Saturday, October 13th at 11:00am at King's Island.

Happy Hours (you're welcome):
Fall break is full of time to relax and enjoy all the food and drinks Cincinnati has to offer. Whether it's drinks after work or late night bite with your friends, find your happy in Cincinnati.
Happy Hour at Taft Ale House - 2:00pm-5:00pm Monday through Thursday every week
Happy Hour at Palomino Restaurant & Bar - 3:00pm every week
Happy Hour at Yard House - 3:00pm every week
Happy Hour at Nicholson's -3:00pm every week
Happy Hour at Via Vite - 3:00pm every week
Happy Hour at Kaze - 4:00pm every week
Happy Hour at Igby's - 4:00pm every week with $5 Drafts, $5 Select Calls $5 Glasses of Proberb Wine and $6 Cocktail of the Month
Zoo Brew at the Cincinnati Zoo: This wildly popular annual beer tasting event takes place through the Cincinnati Zoo and will feature a wide variety of beers on Thursday, October 11th from 6:30pm to 9:00pm.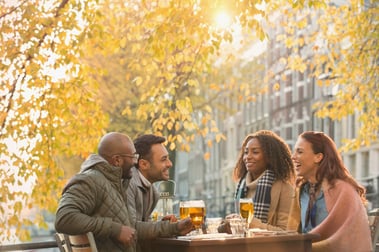 October's Brewer's Table at Moerlein Lager House: Take a seat at the Brewer's Table where Brewers and Chefs pair handcrafted beer and food. This evening features a flight of Moerlein beers alongside chef created food pairings for a unique beer experience hosted by Christian Moerlein Brewing Company and Moerlein Lager House brewers. Join the table on Friday, October 12th at 7:00pm.
Rare Beer Fest 2018 at Rhinegeist Brewery: On Saturday, October 20th at 12:00pm, breweries from across the country will journey to Rhinegeist with their rarest brews for a magnificent day or craft beer celebration.

Get Moving and Grooving:
Just because it's fall break doesn't mean you should take a break from moving your body! Staying motivated will be easy with these workout opportunities.
Market Muscles with Cincy State of Being at Findlay Market: Get moving with the best fitness gurus in the city every Wednesday at 5:30pm in the Farm Shed for different unique workouts. The best part is, the workouts are only $10 and include a voucher for a free beer in the Findlay Market Biergarten!
10/10 Special Event with FC Cincinnati
10/17 TBD
10/24 Jazzercise Flip Fusion Class

Workout on the Green in Washington Park: Workout for free in Washington Park with classes led by licensed instructors. All classes take place on the Civic Lawn in front of the stage every Wednesday at 6:00pm now until October 24th.
Opera and Yoga at Music Hall: Join Cincinnati Center Stage for a session of mindfulness, music and movement! Admission is free with a suggested donation and reservation is required. Bring a yoga mat and towel on Monday, October 15th at 6:00pm.

Trail Yoga at Rentschler Forest Metro Park: Hiking and Yoga, what could be better? This is a great way to reduce stress through awareness and increase positive emotions during your fall break. Join on Tuesday, October 16th at 6:00pm in Rentschler Forest MetroPark. No Yoga mat needed.

Big Events:
Whether you want to watch a movie, support a great cause or catch up on reading, Cincinnati has some pretty exciting events happening this fall so invite your friends and make the most out of it.
Fright Night in Washington Park: Fright Night Flicks features a free Halloween movie screening every Wednesday at 8:00pm. Come down early to grab a spot for your lawn chairs or blankets and make sure to grab a drink from the bar!
10/10 E.T.
10/17 Ghost Busters
10/24 Nightmare Before Christmas

OTR's Got Talent!: OTR is Celebrating Our Beloved Community on Thursday, October 11th from 5:30pm-8:30pm in the Music Hall Ballroom. Gather with over 300 friends, partners, and supporters at a fundraising and awards dinner honoring the many varied voices that make up our beloved community and will showcase community arts organizations like MUSE, SCPA's Meridian 8 and a cappella ensemble.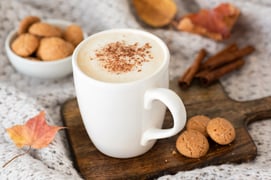 Holtman's Pop-Up Donut Shop at Braxton Brewing: What could be better than Donuts to celebrate your fall break? Oh, I don't know, maybe donuts AND coffee. On Friday, October 12th at 7:30am, Holtman's Donut Shop will deliver a pop-up shop in the taproom to pair with Braxton's craft coffee. Sign me up!
Books by the Banks: Dive your nose into a book this fall break during the Cincinnati USA Book Festival. This day-long festival, which is free and open to the public, features national, regional, and local authors and illustrators; book signings; panel discussions; and activities for everyone to enjoy. The event takes place at the Duke Energy Convention Center on Friday, October 19th at 10:00am.
Haunted Hall at Cincinnati Music Hall: Celebrate an early Halloween with the magic music of the Pops in a hall with a haunted history. The event takes place Friday, October 12th at 8:00pm in Springer Auditorium.
The Mersey Beatles: White Album Wonders at Jarson-Kaplan Theater: You could also rock the night out with the Liverpool born Beatles Tribute Band as they take the audience on a trip featuring 25 of the greatest Beatles hits from all era. They will be performing Wednesday, October 17th at 7:00pm in the Jarson-Kaplan Theater.Out of Darkness at Sawyer Point & Yeatman's Cove: Make a difference this fall break by raising awareness and funds that allow the American Foundation for Suicide Prevention (AFSP) to invest in new research, create educational programs, advocate for public policy, and support survivors of suicide loss. Join the walk on Sunday, October 14th at 5:00pm.
Music Hall's Peter Pan: Take flight with the Lost Boys, Tinkerbell, Captain Hook, pirates, a very hungry crocodile and Peter Pan himself with this full-length ballet. Shows will happen throughout the weekend at Springer Auditorium on:
Thursday, October 25th at 7:30pm
Friday, October 26th at 8:00pm
Saturday, October 27th at 2:00pm
Saturday, October 27th at 8:00pm
Sunday, October 28th at 1:00pm
Sunday, October 28th at 6:30pm

Wi-Fi Hotspots
Maybe these events aren't what you are looking for and instead you want to work on some projects during your fall break that require you to be on your phone or laptop. Don't just sit at home to get those projects done, take advantage of Cincinnati Bell's Connect Cincinnati's Free Wi-Fi Hotspots. Enjoy free Wi-Fi at places around Cincinnati like Findlay Market, Fountain square, or The Banks Cincinnati.
Or maybe stop at some of these coffee shops for some Wi-Fi and coffee; Alreddy Café, Biggby Coffee Shop, Blue Goose Sports Café, Caffee Vivace, Hangover Easy, Nothing Buntd Cakes, and Troy's Café just to name a few.
Download the Connect Cincinnati app and check out more events, deals for local places all around Greater Cincinnati, as well as the full list of local fast Fioptics Wi-Fi hotspots locations for free throughout the area.