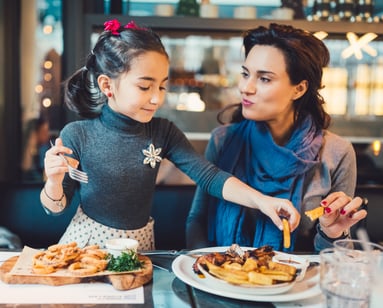 Cincinnati turns into a winter wonderland this time of year and becomes a perfect place to go on a date. It is always so much fun to go on a fun winter date, especially ones where food is involved. For a lot of people, the worst part about going on a date is actually planning the day out. This holiday, we have made those plans for you.
How does brunch and a Santa sighting sound? If you are looking to go on a fun, quick date in Cincinnati, we have got you covered.
We have put together a full festive list of brunch and Santa sighting ideas including Saturday morning brunch in the city, ice-skating with Santa on Fountain Square, breakfast with Santa and so much more!
Santa Sightings:
Santa-bration at Carol Ann's Carousal – Santa is coming to Carol Ann's Carousal on December 21st at 11:00am. Come enjoy holiday themed crafts and carousal rides with Santa!
Santa Skates at Fountain Square - Every Saturday and Sunday now until December 22nd, Santa will lace up his skates and join families out on the ice for an hour of holly-jolly fun from 12:00pm to 1:00pm!
Santa's Workshop - This year, every Saturday in December, ditch your annual trip to the mall and venture down to Washington Park to see Santa Claus! Every Saturday in December, Santa and his merry band of Elves will be spending time in Washington Park making gifts, ornaments and other fun creations from 1:00pm to 3:00pm.
Brunch:
Brunch at Nicholson's – Every Saturday and Sunday enjoy brunch at Nicholson's from 10:00am-3:00pm.
Brunch at Via Vite – Brunch is happening every Sunday starting at 10:00am. They have a wide variety of food and it's so delicious!
Afternoon Tea at Orchids at Palm Court – Every Saturday in December at 2:00pm, experience full tea service from with a selection of premium loose leaf teas, traditional tea sandwiches, appetizers and array of fresh pastries created in house by the Netherland Plaza pastry team. French art deco and live music complement the afternoon tea.
Breakfast with Santa at the Voice of America MetroPark – Enjoy a yummy buffet, entertainment by Charlie Cadabra, and a visit with Santa on December 16th from 11:00 am to 1:30 pm. Framed photo of your visit with Santa available for a small fee. Space is limited and reservations are required. Registration closes 12/10/2018.
Drag Brunch: Sugar Plum Fairies – Happy Holidays Sugar Plum! Join Metropole on December 16th at 11:20am for Metropole's seasonally-inspired drag brunch, as your favorite queens Amaya Sexton and Jessica Dimon emcee the best show in town.
Wi-Fi Hotspots:
While you are enjoying your holiday break, take advantage of Cincinnati Bell's Connect Cincinnati's Free Wi-Fi Hotspots all around Cincinnati. Enjoy free Wi-Fi at places around Cincinnati like Findlay Market, Fountain square, or The Banks Cincinnati.
Also check out our other Cincinnati Date Idea blogs, Holiday Daytime Date Ideas and Holiday Date Night Ideas.
Download the Connect Cincinnati app and check out more events, deals for local places all around Greater Cincinnati, as well as the full list of local fast Fioptics Wi-Fi hotspots locations for free throughout the area. Enter to win the Ultimate Date Night including Cirque du Soleil tickets, a dinner certificate to Metropole & one night stay at the 21 C Hotel on the Connect Cincinnati App!
Enjoy everything Cincinnati has to offer this holiday season and make sure to subscribe to the Cincinnati Bell blog to receive more holiday related content!