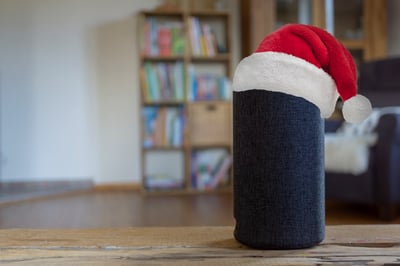 Everybody knows the best way to spread Christmas cheer is singing loud for all to hear, but not everyone knows that the second best way to spread holiday cheer is to enlist the help of your virtual assistant.
Whether you are looking to check up on Santa Claus before the big day or wanting to light the next candle on your menorah, all you have to do is ask your Google Assistant or Amazon Alexa, sit back, and enjoy.
Below we have compiled 20 holiday-themed commands for both systems that will add a little magic to your holidays.
Google Assistant
North Pole Newscast - You can tune in daily to a special broadcast hosted by Dimplesticks, the elf who provides you with updates on what Santa, the elves, and the reindeer are up to as they prepare for Christmas night. Once enabled, just ask your Google Assistant, "What's new at the North Pole."

Call Santa - Unlike most "call Santa" apps, when you call Santa using this fun and interactive Google Assistant action, you find him in the middle of a concert rehearsal. Through your responses, you must help Santa figure out the best way to play his song. Call him again and you will get different questions to create a different performance each time.
Create your own Christmas story - In this interactive, choose-your-own-adventure style Christmas story, you're the star. You decide what to do next as you unexpectedly awake to discover Santa in your home.
Create your own Christmas song - Help Mo the elf create a personalized Christmas jingle for your best friend. Just tell your Google Assistant to "Talk to Christmas Tune Producer."
Santa Claus Escape - Santa has been locked inside your Google Assistant by a naughty fairy. It's your job to set him free by solving riddles and quizzes. Play time is about 20 minutes. Just tell your Google Assistant to "Play Santa Claus Escape."
Have Santa tell you a joke - They don't call him the "jolly old elf" for nothing. Ask your Google Assistant to "Tell me a Santa joke" and the big man will stop what he is doing to tell you a Christmas-themed joke himself.
Track Santa's flight - Get up-to-the-minute updates on Santa's whereabouts by simply saying, "Hey Google, where is Santa?" In the days leading up to Christmas Eve, you might find out he is at the gym or eating dinner with Mrs. Claus, but on Christmas Eve Google will provide you real-time updates on where Santa is along his journey around the world.
Holiday trivia - Enjoy a fun trivia game that runs the gamut of winter holidays including Thanksgiving, Christmas, Hanukkah, Kwanzaa, and New Year's Day.
Spin the dreidel - Play this Hanukkah favorite by simply saying, "Hey Google, let's play dreidel."
---
Amazon Alexa
Suggest daily acts of kindness -

Alexa can help you stay on the nice list with this skill that suggests random acts of kindness.

Start each day with this simple phrase, "Alexa, Open Christmas Kindness" and Alexa will provide a random idea about how to integrate kindness into your daily life, like showing extra affection to the people you love or letting cars go ahead of you in traffic. Bonus: Ask Alexa "What are you thankful for?"

Ask Alexa to sing you a Christmas carol

– Really, go ahead and try it! You won't be disappointed.

Find out if you've been naughty or nice – Enable the Santa Claus skill and Alexa will ask a series of questions to help determine whether the kids have met their full niceness potential.
Dear Santa

– Dear Santa is the perfect holiday skill for young children to tell Santa what they want for Christmas and report their good behavior. When your child tells Santa an item on his or her Christmas list, it will be emailed to Santa as well as to the email on file (aka Santa's special Mom and Dad elves) for your Amazon Account.




Track Santa – On December 24th, NORAD conducts a special mission tracking Santa across the globe to keep him safe until he arrives at your house. Find out how many days are left until Santa begins his journey, follow him as he gets ready the day before his flight and hear his locations before he arrives! Just ask Alexa, "Where's Santa?"

Discover your elf name – If you have ever been curious about what your name would be if you were an elf, Alexa may have the answer once you enable Elf Names. Just ask Alexa for an elf name, and get ready for something silly.

Explore Christmas facts by asking Alexa

-
"Is Santa Claus real?"
"Where does Santa Claus live?"
"How old is Santa Claus?"
"What can you tell me about Santa's reindeer?"
"Who's your favorite reindeer?"
"What is the true meaning of Christmas?"
"Alexa, can you name Santa's reindeer?"
"Alexa, do you want to build a snowman?"

Hanukkah Facts –

How much do you know about the holiday Hanukkah? Alexa is here to tell you all there is no know about Hanukkah. Just say the command, "Alexa, open Hanukkah Facts.



Light the menorah - This skill offers six features to help you celebrate Hanukkah, including lighting candles on the Menorah on your Echo Show, reciting blessings, countdowns, and more.
Learn a Jewish blessing – If you're not sure what blessings to say, just ask Jewish Blessings! Alexa will tell you the blessing and/or whether it's on food, drinks, holidays, or various occasions. Just say something like, "Alexa, ask Jewish Blessings what the blessing for lighting candles on Hanukkah is" or "Alexa, open Jewish Blessings."
Spin the Dreidel

– Let's play dreidel! Ask Alexa to "Spin the Dreidel" to spin once or ask Alexa to start a multi-turn game.
---
Google Assistants, like the Google Home or Google Nest Hub, and the Amazon Alexa can help you and your family have a joyful holiday season. Don't have a Google Assistant or Alexa-enabled device? We've got you covered. You can browse our wide selection of smart home devices on www.cincinnatibell.com and purchase them in any Cincinnati Bell retail store. Cincinnati Bell customers can even take advantage of our installment billing option, which allows you to pay for these devices over any length of time up to 24 months.
Enjoy this article? Want a Google Nest Hub? Subscribe to our blog at the link below and you will be entered to win a Google Nest Hub and Google Play gift card through our Cyber Week of Deals & Giving.