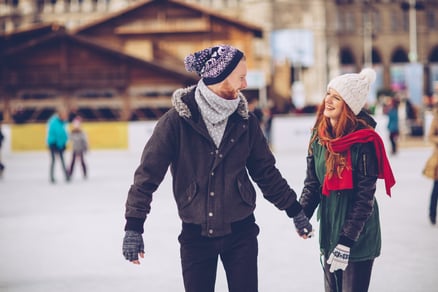 The holidays are here and it's time to explore Cincinnati. Sometimes it can be difficult to plan dates around this time of year especially in the evenings when the craziness of the holiday kicks in. This holiday season, explore Cincinnati with these festive daytime date ideas that are perfect for kids and kids at heart.
We have put together a full festive list of daytime date ideas including ice-skating on Fountain Square, penguin meet and greets, ugly Christmas sweater parties, and a beautiful show at the Krohn Conservatory!
Cincinnati turns into a winter wonderland full of holiday events to attend. So, pick your favorites and enjoy all of the places to explore in Cincinnati on your next date.
Daytime Dates:
Ice Skating: The Fountain Square Ice Rink is open now through December 21st and is a great way to embrace the holiday season.
Monday-Thursday: 12:00pm to 10:00pm
Friday: 12:00pm to 10:00pm
Saturday: 10:00am to 11:00pm
Sunday: 10:00am to 9:00pm
Meet Penguins at the Newport Aquarium – Meeting a Penguin or making a new animal friend sounds so festive it hurts. Now until December 13th, Penguin Encounters and Backstage Animal Experiences are 50% off!

Maslow's Army Fountain Square Holiday Toy Drive – December 8th, December 15th, and December 22nd from 12:00pm to 4:00pm, 3CDC and Maslow's Army will be teaming up on Fountain Square to ensure that every child will have a gift to open this holiday season. Donated toys will be wrapped and delivered to family shelters and orphanages in the Greater Cincinnati and Northern Kentucky Area
A Crystal Holiday at Krohn Conservatory – Discover a shimmering frozen landscape at Krohn Conservatory's 2018 Holiday Show. The 2018 Holiday Show runs now through January 6th and is perfect for a date night.
Ugly Sweater Day at Kings Island – We all have that one Christmas sweater that we love to hate and hate to love and Kings Island has the perfect event for it. Wear your ugliest Christmas sweater with pride on National Ugly Sweater Day, December 21st at 5:00pm, and get your WinterFest admission for only $19.99 per person at the front gate.
Christmas At The Junction – See the magic of Christmas at the home of the World's Largest Indoor Train Display. Take a journey to the North Pole now through January 2nd every day from 10:00am to 6:00pm.
Pretty Princess Parties at Duke Energy Convention Center - Meet all the Princesses at The Fairytale Ball. All of our princesses are excited to sing, dance, and play with your little ones! The event focuses on making sure your little one feels royal throughout all of our activities on December 8th from 10:00am to 7:00pm.
Wi-Fi Hotspots:
While you are enjoying your holiday break, take advantage of Cincinnati Bell's Connect Cincinnati's Free Wi-Fi Hotspots all around Cincinnati. Enjoy free Wi-Fi at places around Cincinnati like Findlay Market, Fountain square, or The Banks Cincinnati.
Also check out our other Cincinnati Date Idea blogs, Holiday Brunch Ideas and Holiday Date Night Ideas.
Download the Connect Cincinnati app and check out more events, deals for local places all around Greater Cincinnati, as well as the full list of local fast Fioptics Wi-Fi hotspots locations for free throughout the area. Enter to win the Ultimate Date Night including Cirque du Soleil tickets, a dinner certificate to Metropole & one night stay at the 21 C Hotel on the Connect Cincinnati App!
Enjoy everything Cincinnati has to offer this holiday season and make sure to subscribe to the Cincinnati Bell blog to receive more holiday related content!