Everyone knows the deal with Midwest weather: One day we wake up to snow, the next day it is 80 degrees and humid, and the day after that it is thunder storming. We have the pleasure of experiencing all four seasons of weather – sometimes within the same week – which can make it difficult to determine how to best keep our homes warm or cool, without sending energy and electricity bills through the roof.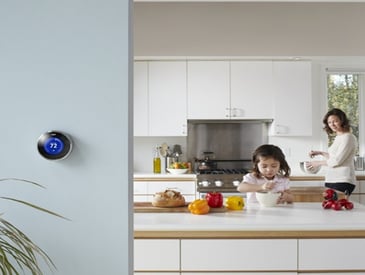 According to
Nest,
a leading provider of connected home devices,
"Energy bills shouldn't exceed 6% of income. But many Americans spend 20-50%... and 1/4 American households struggle with a high energy burden."
No matter what kind of household you live in, there are simple steps you can take to be energy efficient and weatherize your home.
11 Tips from Nest:
Windows - Windows can get drafty, particularly older ones. Plug leaks with caulking, weather stripping, or with a shrink film storm window kit. Tight-fitting drapes or shades can also help.
Doors - Doors are another passageway for air to sneak in or out of the house. To stop this, install a draft seal onto the bottom of the door and make sure to always lock the door firmly to form a seal against weather stripping.
Holes - Common holes in your home that let air leak in or out are near plumbing, chimneys, basements, crawl spaces, and recessed lighting. Close up these areas with sealing foam.
Floors - Floors can be frigid. Add a rug to keep in the heat and keep toes warm.
Furniture - Make sure your furniture isn't blocking vents. Rearrange it if it is. While you're at it, consider moving furniture to the center of the room where it's typically warmer.
Thermostat - Most of us know the most basic thermostat advice: Turn off the heat or air conditioning when no one is home. But we also encourage you to invest in a smart thermostat, like the Nest Learning Thermostat, to help save energy. Watch

our recent TikTok Tech Tip

to see how it automatically helps save energy while in ECO Mode. While you're away, you can control it using the Nest app on your phone, tablet, or laptop. Nest Thermostats are actually proven to save you nearly $150 a year! altafiber customers can purchase this thermostat and other smart devices at our local stores with interest-free payments for up to 2 years.
Curtains - When sun comes through the windows, open the drapes to warm the house in the winter. In summer, close the curtains or use blackout drapes during the day to keep the house cool.
Furnace filter - When your furnace filter gets clogged, it has to work harder and uses more energy. To avoid this, replace the furnace's filter once a month.
Fireplace - Make sure your fireplace damper is closed when not in use, so outside air doesn't sneak in.
Window air conditioning unit - In winter, remove and store window air units so cold air can't get in. Then close the window and seal it properly.
Hot days - On hot days, do what you can to limit energy use. Install lights that run cool, turn them off when you can, and air-dry dishes and clothing.
A few other tips for conserving energy in your home:
Open windows in the spring when temperatures are mild enough to cool your home without turning on the air conditioning.

During the day when the sun is out, use windows to allow natural light into your home instead of using electricity. When the sun isn't out, consider purchasing energy-saving lights and plugs from Kasa Smart Home or T.P. Link at an altafiber store.

Turn on bathroom fans when taking and after a shower. They suck out humidity which will keep the house cooler. Be sure to turn them off when the humidity is gone.

Cook outside using a grill instead of an indoor oven when possible, keeping the house cooler.

In the winter, use an electric space heater to warm the room you are in instead of turning up the heat in the whole home. On the flip side, consider using a window or standing fan for the same reasons. Follow manufacturer directions for safe use.
---
When it comes to using energy in your home, don't waste money on more energy than you actually need. Consider these tips and what you can do to make your home more weatherized and energy efficient.