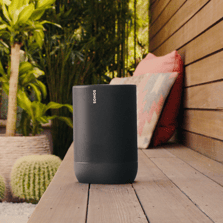 As the summer begins to heat up, your outdoor space becomes your patio oasis, your barbecue kitchen, and your backyard playing field.
You might think that a 'smart home' only pertains to the inside of your home, but that's not always true. There are plenty of ways to automate your outdoor space and "deck" it out with some technology. Below is a list of connected home devices and accessories altafiber carries that are perfect for bringing your smart home outdoors and elevating your space.
---
Music
Everyone knows you can't enjoy the warm weather without some summer jams. Sonos is a wireless home sound system that can fill your indoor and outdoor spaces with incredible sound. Here are just a few Sonos options: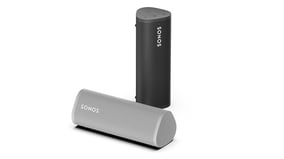 Sonos Roam – These compact speakers pictured to the right are the perfect on-the-go stereos for your outdoor adventures. Enjoy music, voice control, and multiroom listening at home on Wi-Fi. Plus, the Roam has Bluetooth® streaming and up to 10 hours of battery life for those summer days that turn into summer nights.
Sonos Amp- Power your outdoor speakers and expand your Sonos system to your backyard with this versatile amplifier. Connect the Amp to any TV outside and throw the ultimate movie or gaming night!
Sonos Move- This durable battery-operated speaker is made for the outdoors. The Sonos Move is a bit bigger than the Roam, but is also water and drop resistant.
Sonos Era 100- The Move pairs well with the brand new Sonos 100, making a great indoor/outdoor set for your smart home. The 100 is an affordable smart speaker with a rich bass. Watch our Sonos 100 and 300 Tech Tip below.
---
Cameras
Nest Hello Doorbell – Did your guests start arriving a little early? No worries. A Nest Hello will send notifications right to your phone to notify you when someone is at the door. With voice activation, you can tell them to come in through the app without ever having to leave your seat on the back porch.
Nest Cam Outdoor – This security camera keeps your house protected and safe from unwanted guests all year round. The Nest Cam allows you to look back on a 3-hour snapshot history so you'll never miss a thing- especially the epic catch you made in the backyard football game. It monitors your home with 1080p video quality and with 24/7 streaming, you can check in anytime. Touchdown!
Ring Floodlight Cam – After the night is over, your Floodlight Cam will keep you safe from any post-party intruders. The Ring Floodlight Cam protects your home with a motion-activated camera with a 140° field-of-view, a siren alarm and two-way audio.

---
Lighting
Kasa Smart Wi-Fi LED Light Bulb - It's not a party without mood lighting! As the sun starts to set and your outdoor party feels like it might be coming to an end, keep the night going with Kasa Smart Wi-Fi LED Light Bulbs. You are able to control your smart bulb from anywhere using the Kasa Smart app. Who needs Tiki torches anyways? Use Amazon Alexa, Google Assistant or the Kasa app to dim and brighten, create schedules, timers, countdowns, and turn your bulb off and on. Learn more about Kasa Smart and TP Link products at our YouTube page.
Ring Pathlight - Brighten up and protect your outdoor space with smart lighting. These path lights shine on walkways, driveways and pathways when motion is detected and can be controlled via the Ring app on your smartphone.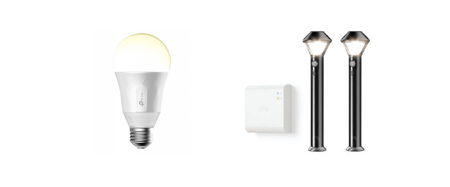 ---
Extra
Nest Thermostat –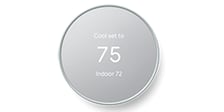 Keep your house cool for when you need a break from the outdoor heat. This affordable thermostat is great for regulating the temperature in your home, saving you an average of 10-12% on heating bills and 15% on cooling bills.
Nest x Yale Lock – This lock is great for any door around the house. The Nest X Yale Lock is a tamper-proof, key-free deadbolt that connects to the Nest app. You are able to lock and unlock your door from anywhere and can check your door status with your voice using Google Assistant. You can even give people you trust a passcode during your backyard bash, instead of a key.
---

Check out and purchase all of these devices at your nearest altafiber Store. altafiber customers can take advantage of 24-month interest-free payments, too! Call one of our retail stores using the button below to learn more.