Seems like everyone has either asked or heard the question, "Is Halloween cancelled this year?" Luckily, officials have not cancelled Halloween altogether, but have given strong recommendations and advice on how to safely enjoy Halloween in accordance with COVID-19 guidelines. So now the question is, how do you celebrate Halloween during a pandemic?
---
1) Technology can help you social distance
Traditional Trick-or-Treating involves sitting on your porch or driveway with a bucket of candy, waiting for groups of kids to come and grab a handful. Unfortunately, this year won't be so traditional. If you would like to have a contactless Halloween experience, we suggest making a sign that says to stay a distance away from your door and wait for candy. This avoids everyone touching the same bowl. Make sure your candy is individually wrapped this year, too!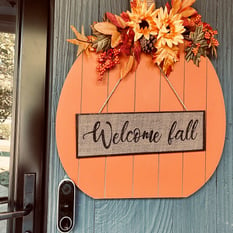 Then, you could use technology like a Nest Hello Video Doorbell to monitor and attend to your trick-or-treaters. The Nest Hello pushes notifications to your mobile device, like your phone, iPad, or Google Nest Hub, when motion is detected near your door. Set up your device and watch for kids as they arrive at your house. You can even talk through the doorbell, letting them know to stay put and you will come out with candy shortly. Then you can put on your mask, leave candy at the front porch, and return inside safely without getting too close to the trick-or-treater. The Nest Hello doesn't even require the trick-or-treaters to touch the doorbell, which makes it easier to ensure a contactless Halloween.
One of the best parts of Halloween is making trick-or-treaters smile (or maybe even giving them a friendly spook). Since interacting with kids doesn't exactly follow social distancing rules, consider setting out a Sonos speaker to play fun and spooky Halloween music for them as they pass your house instead.
2) Get creative with costumes
Luckily, when it comes to Halloween costumes, COVID-19 guidelines are very doable. You can make a mask fit into almost any costume, as long as you get creative. Here are a couple of fun, COVID-friendly costume ideas:
Nurse or Doctor: No outfit is more fitting for this year. Not only are you honoring those who have worked so hard to keep us safe, but you can easily wear a mask just as they do everyday.
Mummy: If you're looking to be a bit scarier this year, a mummy


costume is perfect for incorporating a mask, especially if it's a tan or white color.

Ninja: Ninja's wore masks before it was even required! Grab a black mask and pair it with your best Ninja costume.
Cowboy/Cowgirl:

Although they don't typically wear masks, you can wear a bandana cloth over your mouth instead of your neck this year. Yeehaw!





Note that the CDC says

a cloth mask should not be paired with a full costume mask because they can restrict breathing.

Bonus points for anyone who dresses as Cincinnati Bell's Mr. Golden...
3) Keep it all at home or virtual
If you would rather skip Trick-or-Treating and in-person Halloween parties altogether, no one will blame you. Staying safe and comfortable is the first priority. Luckily, there are tons of virtual and low-risk activities to do with your family and friends to celebrate Halloween. Here are a few:
Virtual Halloween Costume Contest or Party: Set your kids up on a Zoom call so they can interact with friends and show off their costumes, virtually. Even throw an adult version with Halloween-themed cocktails! The Google Nest Hub is great for hosting virtual get-togethers, and can be bought at a Cincinnati Bell store.
Decorate your house: Carving pumpkins with your family is still acceptable this year. Think outside the box with any crafts you have at home that will help your family get in the Halloween spirit.
Halloween Movie Night:
Keep it simple and enjoy a bowl full of your favorite candy while watching your favorite Halloween classics. Check out
Freeform's 31 Nights of Halloween
, on Fioptics channel 547 HD/47 SD for multiple movie options each night in October.