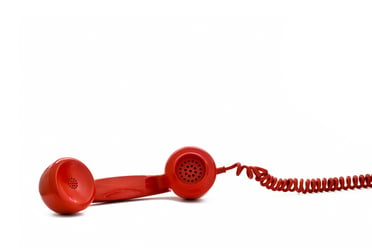 Receiving unwanted spam calls can be inconvenient and frustrating, but if you happen to fall victim to one of these scams, it can also be financially disastrous.
According to a report from Truecaller, in 2018 43 million Americans fell victim to phone scams for a total loss of approximately $10.5 billion. That's nearly one in every six adult Americans.
Fortunately, there are some simple steps you can take to identify legitimate calls and avoid the rest.
Spam call red flags
Pay special attention to calls that

Request that you verify personal information (Such as your Social Security number)
Request that you visit a website that appears to be affiliated with Cincinnati Bell or another company.
Use an automated voice messaging system advising you to return their call.
Claims to be a computer technician with a technical support company requesting remote access to your computer.
Claims you have won a sweepstakes, contest, or other item of value
Request to verify a PIN code by phone without you having to personally update account, service or profile in person.
If you are still having a tough time identifying these calls, here are some things you need to know about unwanted calls and how to stop them.


---
What to do if you suspect a spam call
Don't answer: Screen your calls. If you receive a call from a number you don't recognize, local or not, let it go to voicemail or send it there. If the call is important, the person on the other end will leave a message. This also gives you the option to return the call at your leisure. Scammers can also spoof caller ID to look like the calls are coming from a legitimate business or previous contact, which makes them difficult to ignore. But if you aren't expecting a call from your bank or your doctor's office, use voicemail to get more information before returning calls.
Hang up: Once you determine that the caller is trying to sell you something or scam you by collecting personal information, hang up.

Don't hit any buttons: If it's a robocall, avoid speaking or pressing buttons, even if the recording instructs you to do so in order to stop receiving calls.
Don't confirm sensitive information: Immediately hang up on any caller asking you to confirm sensitive information such as your account number or your Social Security number. Those are details that any company with which you are in a trusted financial relationship should already have.

Verify: If the caller claims to be from a business or service provider that you do business with or a government agency hang up and call the business, service provider or government agency on the number that you normally use to call them and verify the reason for their call.


---
Cincinnati Bell features that can help you avoid spam calls
Cincinnati Bell offers multiple phone features to assist in the effort to eliminate unwanted and anonymous calls for our customers. Activate or add these Cincinnati Bell features for an extra layer of protection.
Caller ID: This feature will NOT block or eliminate nuisance calls, but will provide details on who is on the other line.
Call Block: This feature allows you to create a block list of up to six numbers.
To activate:
1. Pick up phone handset and listen for dial tone.
2. Press *60 (rotary customers dial 11 instead of *).
3. Listen to the recorded instructions. The recorded instructions will tell you to press "0" to hear the instructions. The instructions will give you options on how to add, remove or review the numbers on your list. They will also tell you how to add your last caller. If you are a new subscriber to this service or have not entered any numbers on your Call Block list, you will be instructed to add one in order to turn on the service.
Reveal: This feature intercepts calls normally marked 'Private', 'Out of Area', or 'Unavailable' on Caller ID and instructs the caller to enter their phone number. If the caller chooses not to reveal their number, or is unable to as with most telemarketers with auto-dialers, the call will never ring through to the customer. This feature is available to all customers. In order for this service to work, the customer must also have Caller ID service activated.
To activate:
1. Before using Reveal Service for the first time, dial *87 (to be sure that your Anonymous Call Rejection is deactivated).
2. Dial *99 (rotary dial 1199 ) to activate Reveal Service. You will hear the following announcement: "Thank you for activating Reveal from Cincinnati Bell. Now, calls will only be delivered to you if Caller ID information is available."
3. Use *98 if you wish to deactivate.
Anonymous Call Rejection: This feature permits a customer to refuse any calls from callers who block their number by using "Number privacy" and/or "Per Line Privacy". Customers who subscribe to Caller ID (Name and Number), or Call Return will receive Anonymous Call Rejection free of charge. Customers who do not, can subscribe for a monthly fee.
---
Additional resources to protect yourself