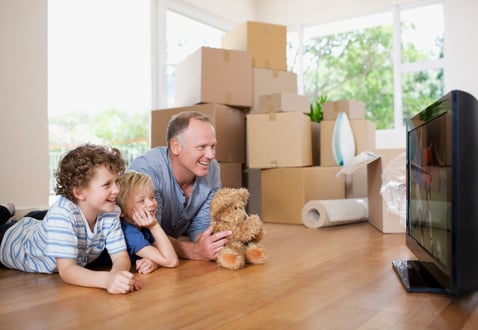 Spring is a time for fresh starts. The weather gets warmer, the world explodes in color as trees and flowers bloom, and everyone eagerly emerges from their winter hibernations. With all this new energy in the air, it's no wonder why spring is also peak moving season.
The holidays are over, the weather is looking up, and moving trucks are a regular site. According to housingwire.com, home buying and selling activities swell during spring and summer. In fact, since 1999, existing home sales have increased by an average of 33 percent between February and March and continue to increase 10% each month through June.
There are a lot of reasons spring is everyone's favorite time to move. The mild weather makes the moving process easier. Kids are on spring break and nearing the end of the school year, which means less disruption for their studies. And, many people want to get settled in a new home before the summer months so they can enjoy their new home during one of the most active times of year.
One of the most important parts of moving is getting your Internet, TV, or phone services transferred or set up in your new home. Since spring is a popular time for moving, it's also a busy time for installs, so if you are a new customer, start looking into the available services for your new residence prior to moving in. That way, you will have time to do research, decide what you want, order your services, and schedule an installation date to coincide with your move in date.
To ensure you are able to have your Internet/TV/phone set up on the day you move into your home, you should schedule your install as soon as you sign a new lease or purchase a home. You will want to schedule your install at least 2 weeks before your move in date.
If you are an existing Cincinnati Bell customer, you can simply move your Fioptics equipment from your old home to your new one. However you will still need a tech to visit your house to set up your service in your new home, so once again schedule your install as early as possible.
Spring is a beautiful time of year, as we can literally see things coming back to life all around us. If you're starting a new chapter of life at a new home, rest easy knowing your neighbors at Cincinnati Bell are here for you.
In short, once you know your moving date, give us a call at 513-566-4101, visit a Cincinnati Bell store, or chat with a live agent at www.cincinnatibell.com and schedule a time to get your services moved and installed at your new residence. Because at the end of a long moving day, it's nice to be able to sit down and watch your favorite TV show or browse the Internet…even if it is on the floor.