Net Neutrality has been a hot topic over the past few months, and with the FCC's recent decision to repeal Net Neutrality regulations, it's nearly impossible to go online without seeing something about it.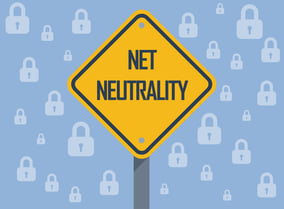 Net Neutrality is the idea that Internet Service Providers (like Cincinnati Bell) should be required to treat all data equally - regardless of its source - on their networks. Net Neutrality supporters are concerned that the repeal may hinder their access to the Internet, or force them to pay more to access popular sites like Netflix or YouTube.
Cincinnati Bell has received numerous questions about how the repeal of Net Neutrality regulations will impact our customers. Our Chief Operating Officer Tom Simpson recently addressed these concerns in a letter to customers. It states:
---
Dear Cincinnati Bell Customer:

The FCC recently voted to repeal net neutrality rules. This decision is seen as a "win" for national Internet Service Providers that supply high-speed Internet, and that aggressively lobbied for the change – although many of these providers have so far declined to discuss what the FCC's vote means for their customers in the long term.
Cincinnati Bell wants you to be clear on our position:
We will not prioritize Internet content traffic. We have, and will continue, to keep treating all Internet traffic the same way.
We will not charge you a premium to access content that is freely accessible over the Internet. Our job is to maintain your connection. You decide how to leverage that connection.
In other words: The repeal of net neutrality rules will not impact Cincinnati Bell customers. Cincinnati Bell is building and maintaining a fiber network that is designed to meet the current and future bandwidth needs of our customers. There is no need for Cincinnati Bell to prioritize or throttle Internet traffic.

Cincinnati Bell believes high-speed Internet is a powerful asset that facilitates access to education, employment opportunities, and health services. High-speed Internet allows entrepreneurs to start and expand businesses. And, of course, high-speed Internet supports a multitude of entertainment choices.

Today, Cincinnati Bell can deliver high-speed Internet to approximately 70 percent of Greater Cincinnati. That percentage will only grow as we continue our investment into building a deep fiber network across the region.

Our investment in fiber – which to date totals approximately $1 billion – allowed us to start offering Gigabit service to consumers in 2014. Continuing the fiber investment is the right thing to do for customers. Which makes it the right thing to do for our company.

Cincinnati Bell believes that a net neutral approach is also the right thing to do for our customers. And that's how we approach every decision we make.

Thank you for doing business with Cincinnati Bell.

Tom Simpson
Chief Operating Officer
Cincinnati Bell
---