The expectation to be connected whenever and wherever becomes more prevalent each day. A fast and reliable internet connection is a must for everyone. With Cincinnati Bell's Premier, you have access to a host of premium features and services designed to help you get more out of your internet.
As Cincinnati Bell Operations Manager Charles Moore stated, "The value in the Premier bundle is probably the greatest value I've seen in my 25 years at Cincinnati Bell."
Whether you are looking to purchase Premier or already have the service, check out the top 5 ways Premier takes your internet to the next level.
1) Wi-Fi coverage in every corner of your house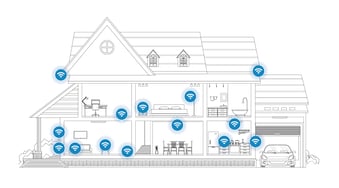 Premier's Whole Home Wi-Fi allows you to finish up work in the basement office, while your teenager plays music on the patio and your child watches Netflix on a tablet in bed upstairs. A trained technician will assess your home to ensure it is completely covered and connected with Wi-Fi in every nook and cranny.
2) One-stop support shop for all your connected devices
On average, each U.S. household has about 13 connected devices (Parks Associates). Finding quick support for all of these devices may be tricky when relying on each individual manufacturer. Under just one service, Premier's Connected Device Support provides any troubleshooting and support you may need. Whether it's your new laptop for online learning, the Oculus Quest your family received as a holiday gift, or the Google Nest Hub you bought 3 years ago- get immediate help for all your wireless devices with Premier's 24/7 onshore support.
3) Secured protection for your online life
The increase in online activity brings an increase in security threats, as well. Stay protected while online banking, shopping, working, and more with Premier's enhanced internet security through the Internet SafeGuard app. This service also includes parental controls that allow you to filter the content your children may view on their devices.
4) Never forget a P@s$w0rD again
Passwords are essential in keeping your information secure and private; however, password requirements have become more complex and cybersecurity experts recommend different passwords for every account you have. Premier's Password SafeGuard app stores all of your password combinations under one master password. Need to log into that random account you made 4 years ago but can't remember the password? Password SafeGuard can help.
5) Peace of mind with wire repairs
Nowadays, companies encourage employees to have a wired data jack in your home for security purposes. If you have an older home with aging wires, or if anything were to happen to that data jack, your phone lines, or the coax that's feeding your television set- Premier's Wirecare has you covered with any repairs and no extra fees.
---
The home internet has become our primary connection to the world. Premier takes your internet to the next level through added connection, protection, security, and support. To purchase or learn more about Premier, visit a Cincinnati Bell store near you, call

513-566-9742,

or click the button below.