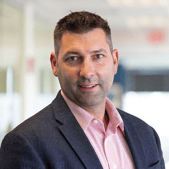 Brian is the Vice President of Field Operations. He and his team are responsible for all outside plant construction and maintenance, consumer and business installation and repair, dispatch, training, process improvement, and departmental data analytics in the Cincinnati Bell operating area. Brian joined the company November 5th, 1995 and has previously served multiple hourly, management, and leadership positions within Field Operations. We sat down with him to ask how Cincinnati Bell has prepared for the COVID-19 pandemic and how his team is handling the increased demand.
---
Installation Services
Q: Since the COVID-19 pandemic started what kind of services have you been installing and how does that differ from what is typical?
A: Beginning in early March, we saw a surge on High Speed Internet related products. As the general population began working and learning from home, increased bandwidth and adequate wireless coverage within the home became crucial. Speed upgrades and adding our "Premier" whole-home WiFi package were in high demand. About a week into the "work from home" movement, we also saw a spike in adding landlines. With conference calls going all day, many customers were seeing the relevance of having a separate line again.
---
Health and Safety
Q: How are you keeping customers and technicians safe during the COVID-19 pandemic, and how has that evolved since the state and federal orders have changed?
A: Our first course of action was pre-screening customers through our contact centers, followed by an additional screening conversation that the Field technicians personally had at the front door before work would begin. Trying to quickly supply our Field employees with PPE (personal protective equipment) became the next priority. With increased demand around the world for items like hand sanitizer, disinfecting wipes, nitrile gloves, masks, etc., securing this material in bulk fashion proved quite challenging. Cincinnati Bell's Safety and Supply Chain departments did an amazing job getting these items in our warehouse. Also, our Field Ops management team did a remarkable job delivering the kits to the employees in the field within a couple days of receiving them. As other items have become available, such as KN95 masks, we have evolved our process and added them to the supply rotation.
---
COVID-19 Preparation
Q: How do we prepare for situations like this?
A: I am not sure that any company is fully prepared for what we are going through right now, but I think Cincinnati Bell has done an amazing job reacting to the situation that our country has been dealt. I can't tell you that we had ever trained for work during a pandemic but our Field Ops department is no stranger to rising to the occasion during an emergency. Restoring large scale outages, working endless hours after a big storm, or simply addressing the needs of an individual customer in serious need of connectivity- it's what we do for a living. Since early March, we have had daily calls with the Field Ops front line employees to talk through the changes we are having to adapt to. The most important part of these calls is when the Field technicians explain what they are seeing and experiencing with the hundreds of customers they collectively interact with every day. We have all learned "best practices" from each other, which is helping the company evolve its approach to this pandemic and will refine any similar scenarios we may face in the future.
"Our Field Ops department is no stranger to rising to the occasion during an emergency. Restoring large scale outages, working endless hours after a big storm, or simply addressing the needs of an individual customer in serious need of connectivity - it's what we do for a living."
---
Installation and Service Visit Volume
Q: Are you seeing a spike in the number of installs and or service visits?
A: As mentioned before, we saw a big spike in connectivity related services for the first few weeks. Then "Wednesday night" happened – severe storms and damaging winds across the tri-state last week... Beginning that night, Field Ops went into action to replace close to 100 broken poles and restore hundreds of damaged fiber and copper cable sections. There were also hundreds of individual service drops to houses torn down that were repaired over the weekend. We have logged over 1000 hours in storm recovery efforts. It was a rough Easter weekend, but on Monday morning, all service levels were completely in check. For a long weekend, it's like the COVID-19 mess wasn't even discussed and all possible energy went to getting our valuable customers back in service. I couldn't be prouder of our Field Ops team.
---
Team Morale
Q: How is morale among the team during this situation?
A: I can't speak for the morale of each and every Field employee, as this pandemic affects people in so many different ways. As a group, I feel that the overall morale is very high. The front line employees are doing an amazing job with the hundreds of customers we see each day. When possible, they are performing some remote troubleshooting with the customers to limit the time spent in the house. They feel empowered when talking to the customers about social distancing while the work is being performed inside the home. The words "layoff" and "furlough" have become frequently used in the employment fields lately, especially within the trades. The role of an ISP (internet service provider) field employee has become more relevant than ever over the last month or so. Our employees are owning this relevancy and absolutely stepping up through these trying times.
---
Essential Services
Q: To the question, "Is Cincinnati Bell really an essential service?", what would you say?
A: I think most customers would rank their utilities like this…Electric/Gas, water, and then internet. When a family is bound to their home to work and learn, connectivity might even trump your furnace not working. In many cases, our Fioptics video service is equally important. With the tri state and the nation being glued to the News each day, staying up to date on current events is a must right now. This why we haven't held back on timely repairs or installing new customers who need better speeds. We are highly focused on our existing customers right now and we still have bandwidth to bring on new ones. As the disease has more and more of an impact on the tri state, we are prepared to take further measures to protect our employees and our customers. We are currently using tools to perform remote troubleshooting between our field techs and our customers. Think of it as "facetiming" with your Cincinnati Bell tech. Going forward, we have mapped out several different operating levels, each having less exposure between the customer and our employees. We continue to monitor the impact of the COVID-19 pandemic and will react accordingly.
"Again, I want to express how proud I am of our Field Operation employees on how they have handled themselves and our customers through these very challenging times."