It's that time of year for spring cleaning and de-cluttering your home. And with Earth Day just around the corner, you can help the planet while you're at it! According to The World Counts, over 13 million tons of electronic waste has already been thrown out worldwide in 2023.
Do you have a bag full of old cell phones, batteries, or smart devices from 5 years ago? An old TV or printer that has been collecting dust in the back of your garage? See where to recycle those properly and how to become more eco-friendly with future electronics.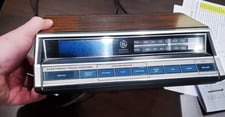 Where to locally recycle electronics
As your hometown technology provider, we want to make sure you know of local places where you can easily recycle or donate your unwanted electronics. Hamilton County provides a long list of locations with recycling and donation options, but a few are highlighted below.
altafiber Retail Stores- During Earth Month 2023 from April 27 to 30, all altafiber stores will be accepting your old or damaged electronics. Stop by to drop them off and we'll handle the proper recycling or disposing! Find more information at our Facebook Event Page.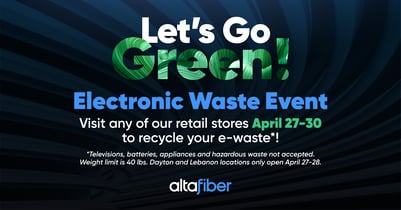 Habitat for Humanity of Greater Cincinnati- Just drop off your electronics or metals listed here at any ReStore location near Cincinnati - Cheviot, Bond Hill, Fairfield, Bellevue and Florence - and they will be recycled properly for you. While there, you can also donate items such as small appliances, books, and furniture.
Batteries + Bulbs- According to the U.S EPA Office of Solid Waste, batteries contain heavy metals such as mercury, lead, cadmium, and nickel, which can contaminate the environment when improperly disposed of. To keep heavy metals out of landfills and the air, recycle your used batteries and light bulbs at places like Batteries + Bulbs, located in Colerain, West Chester, and more.
Staples- Computers, monitors, smart devices, and a long list of other electronics can also be recycled conveniently at your nearest Staples. You can even bring in your old ink cartridges and earn rewards for each recycled cartridge!
Gem City Digital- Looking to recycle electronics near Dayton? Drop off phones, computers, cables, batteries, and more for recycling at Gem City Digital in Kettering, OH.
Cincinnati Computer Cooperative- Local corporations, small businesses, or individuals can bring used computer equipment to this nonprofit who rejuvenates the equipment and supplies to people who otherwise wouldn't have a computer of their own. Call to make an appointment or learn more here.
Eco-friendly smart devices
When looking to invest in your next smart device, keep it eco-friendly! See below for a few examples that we sell in our stores.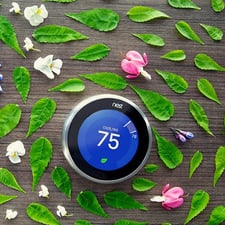 Nest Thermostat- According to Google Nest, smart thermostats can save an average of 10% to 12% on heating bills and 15% on cooling bills. The Nest Learning Thermostat allows you to schedule and adjust your temperatures right through the app and will automatically turns itself down when you leave the house. Watch our Tech Tip Video to learn more about the Nest Learning Thermostat's Eco Mode.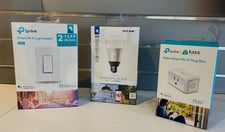 TP Link Smart Wi-Fi- There are multiple TP Link products - like the LED Bulb, Light Switch, and Plug Mini - that help you save energy and money. Each of these products are paired with the TP Link app to provide complete lighting control from anywhere. Track energy usage, set scenes, and schedule timers for your lights or products to automatically turn off when not being used. All available at your nearest Cincinnati Bell/altafiber retail store.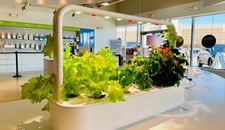 Click and Grow- This self-sustaining smart garden can grow fresh greens, herbs, fruit and vegetables indoor. Learn more and purchase this innovative gadget here or check out what we're growing at many of our retail stores.
Whether it's recycling old electronics, investing in eco-friendly devices, or even just changing your monthly bill to an e-bill through our app - we encourage everyone to take a small step towards reducing their personal waste in 2023. Learn more about altafiber's elevated sustainability commitment at our new blog article below.