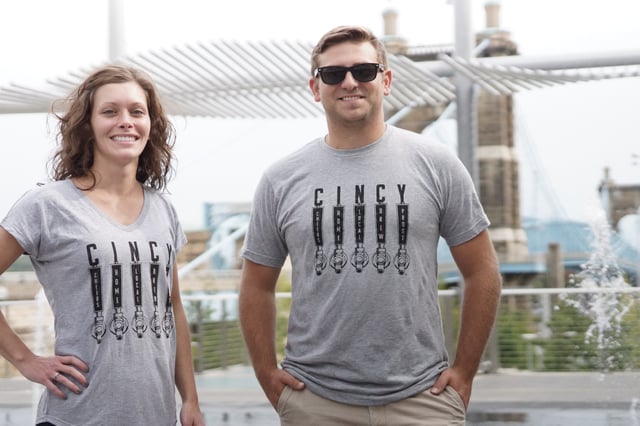 BREAKING:
In honor of Oktoberfest season, the fifth shirt in the series, released on September twelfth,
is a tribute to the Cincinnati beer scene. You will be helping to improve the health of others as 100% of the proceeds from each sale go to four local charitable organizations, which you'll learn more about shortly. Like many of Cincinnati's craft beers, this shirt is small batch with only a limited number available, so pick one up before they're gone!
Cincinnati Bell has called the Queen City home for 143 years now. The organization has over 3,200 employees and covers service areas in the Greater Cincinnati area, extending to Dayton, Indiana and Kentucky as well.
143 years is a long time, and change is a natural and necessary aspect of development. However, there is one thing that has never changed, and will never change. Cincinnati Bell is dedicated to enriching the city and the quality of life for the people who live here. Cincinnati Bell wanted to do something to show the people of Cincinnati, and everybody else for that matter, how much love we have for the Queen City. Thus, the #CincyGive initiative was born to give back to the place we call home.
#CincyGive is stylish. #CincyGive is comfortable. #CincyGive is an evolving t-shirt campaign created in partnership with My State Threads. Three of the four designs thus far feature the word HOME juxtaposed in with a Cincinnati icon of some sort.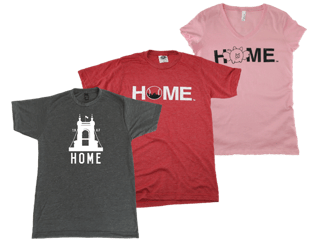 The campaign launched in inaugural shirt in February, featuring the word "HOME" below the iconic Roebling Bridge, an original landmark of Greater Cincinnati.
Just in time for one of Cincinnati's favorite holidays, the second CincyGive shirt was released to coincide with Reds opening day, celebrating baseball's first openly all-professional team.
Commemorating another longstanding Cincinnati tradition, the third CincyGive shirt featured a synonymous flying pig in support of the 19th annual running of the Flying Pig Marathon this past May.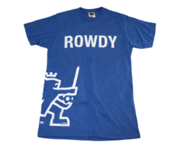 Cincinnati Bell recently released the fourth edition of the CincyGive shirt to salute the FC Cincinnati International Friendly against Valencia. One word: ROWDY.
Yes the t-shirts are buttery soft and cool looking, but what makes them so special? It is the effort behind the t-shirt. Each shirt costs between $20-$22 and as mentioned previously, 100% of the proceeds go to four local charitable organizations. Each charity focuses on the bettering of lives in spite of whatever situation they're going experiencing.
Alex Eichler, Marketing Communications Manager, works directly with the campaign planning, production, and donations. "The thought and care that we have put into the entire campaign makes it different. We selected charities that encompass the entire Cincinnati community. The shirts are very high quality, made by My State Threads in Covington, KY, and we've worked with them to be able to max out our donations from every shirt. Cincinnati Bell employees have gathered around the campaign and look forward to every shirt release", said Eichler.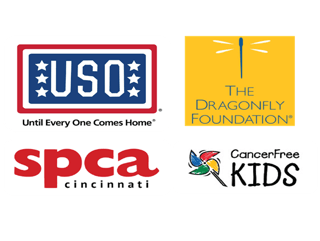 The four local charitable organizations are CancerFree KIDS, USO of Central and Southern Ohio, The Dragonfly Foundation, and the SPCA of Greater Cincinnati. CancerFree KIDS works to fund research for children's cancer that otherwise may not receive funding. The USO of Central and Southern Ohio works to keep active duty service members connected to their home and families while they are serving our country. The Dragonfly Foundation works to provide distractions for individuals and families dealing with the mental, physical, and emotional trauma of cancer treatment, bone marrow transplants and the recovery process associated. The SPCA of Greater Cincinnati is an animal shelter and humane society that works to improve the welfare of animals and to strengthen the animal-human bond.
Various Cincinnati radio stations, including Q102, Warm 98, and 96 Rock have shown their support for the campaign, and so have many other proud Cincinnatians who have taken selfies wearing their shirts and posted them on social media using the hashtag, #CincyGive to show their support.
"The most rewarding part has been watching the shirt sales increase throughout the months and knowing that the donation that we will be able to make is going to be significant and make an impact. It shows the strength and unity throughout Greater Cincinnati" stated Eichler. "When I see a person wearing a CincyGive shirt, especially out of the office, it makes me feel a sense of unity. People throughout Greater Cincy are recognizing that we can make a difference if we all work together. I hope that they are also seeing that we can design some stylish shirts along with having the fastest internet in town."
Cincinnati Bell is proud to have called this city home since 1873. We show that pride by trying to bring the best services to the citizens of Cincinnati, but more importantly by giving back to those who need it most.
Check out "The Story Behind the Shirt" video to get an even better idea of what #CincyGive is all about.
Wear your shirt loud and proud and tag #CincyGive in your next social media post, or give back and get your favorite shirt online or at a store near you to show with pride. Have your eye on a particular shirt? Don't wait – each edition is produced one time and one time only, so get yours before it sells out. Also, make sure to keep an eye out for new shirts!
Which shirt is your favorite? What do you think would make a cool #CincyGive shirt?