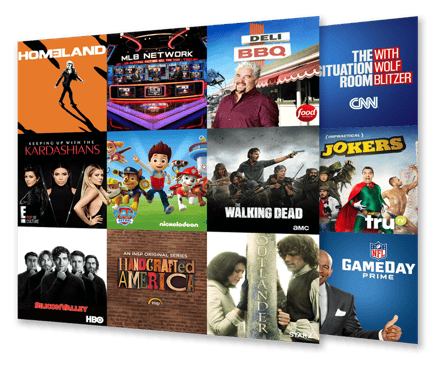 We live in a golden age of television. There has never been more quality programming to watch, and as TV viewers, we commit to our favorite shows. We all know the feeling of excitement of waiting for new episodes to air, to see what will happen to the characters each week. We also know that missing a new episode can be frustrating as it is often challenging to avoid spoilers immediately posted online and on social media.

However, thanks to the convenience of technology it's never been easier to tune in whenever and where ever we want. Most channels now have mobile apps that allow viewers to watch the latest episodes of their favorite shows on-the-go, and many apps also allow for catch up of previous episodes and maybe even entire seasons as well.

What's even better than awesome TV apps to take on the go? Free access to the channels included in your Cincinnati Bell Fioptics TV subscription! With Fioptics TV Everywhere, you can stream your favorite TV shows from your mobile device so you're never behind.

Some apps, however, are filled with even more cool features. We have compiled a list of current TV apps that not only have the latest episodes of your favorite shows, but additional features to provide even more enjoyment.
---


App: ABC
Features: The ABC app features shows like Grey's Anatomy, Designated Survivor, Modern Family, Quantico, and many more current hits.
Special Features: In addition to these shows, this app features live streams of can't miss events such as The Oscars and the NBA Finals. It also has some throwback favorites, including Ugly Betty, Body of Proof, Army Wives, and more.
Download: iTunes, Google Play

---


App: Cartoon Network
Features: Hit shows like Teen Titans Go!, The Regular Show, The Amazing World of Gumball Adventure Time, and many more.
Special Features: Create your own custom mix and rate the shows as you watch. As you rate shows, Cartoon Network will create a playlist of shows they think you'd like. The more you rate, the more refined your list will become.
See episodes before they hit the air! Some premieres will be featured on the app before they're premiered on TV.
Download: iTunes, Google Play
---


App: CNBC
Features: Stream live or full episodes of your preferred shows on demand.
Special Features: Awarded the "Best Smartphone App" at the 2016 SSIP Awards, this app features real-time stock market quotes and global data, breaking news alerts to keep you updated, customizable pre and post-market trading data, and even the ability to trade your own stocks within the app.
Download: iTunes, Google Play

---


App: Disney Now (Disney Jr. & Disney XD now all live under single Disney Now app):
Features: Watch full episodes of your favorite shows from Disney Channel, Disney XD and Disney Junior. Also watch fan-favorite full length Disney Channel movies.
Special Features: Create custom experiences for each child with their own personal profile. Select their favorite shows and games to keep organized in one place that are easily interchangeable to keep all the kids happy.
Play games on all three apps featuring Disney characters. Watch video shorts and music videos, too. Additionally, stream live events like the Disney Channel Music Awards and catch premieres on the apps before they premiere on TV.
Download: iTunes, Google Play
---


App: E!
Features: Watch the latest and catch up with full length episodes of your favorite shows including Keeping Up with the Kardashians, Life of Kylie, Botched, and more.
Special Features: Check out the E! style Collective for the latest coverage in fashion and beauty.
Also tune into livestreams of various E! Programs, get mobile alerts with the latest Hollywood news, and share everything instantly to your social media channels.
Download: iTunes, Google Play
---


App: Music Choice
Features: Listen to your most loved music channels and check out countless music videos.
Special Features: Get 25 exclusive app-only channels, in addition to all the channels featured on TV. Don't waste time flipping songs, search for exactly what channel and/or music video you're looking for without difficulty.
Also, check out exclusive app-only original shows!
Download: iTunes, Google Play
---


App: NBC
Features: Tune into your favorite shows including The Voice, Jimmy Fallon, SNL, This Is Us, and many more.
Special Features: Catch up on classic TV shows like Miami Vice and Knight Rider. Create your own personal profile to organize your favorites into one place. Catch up from where you last left off and receive credits which can be used for additional cool features!
Download: iTunes, Google Play
---

App: Watch NFL Network
Features: Watch live Thursday Night games while staying caught up with the latest highlights and news.
Special Features: Get comprehensive coverage of various NFL events like the combine, draft, training camp, and free agency. Also check out Emmy Award winning films and other NFL network shows.
Download: iTunes, Google Play

---



App: Nick & Nick Jr.
Features: Watch your favorite current and throwback Nick shows, including Spongebob Squarepants, The Loud House, Game Shakers, iCarly, Drake & Josh, Zoey 101, and many, many more.
Special Features: Play countless games while waiting for new surprise content added daily. Vote in polls for various award events, too!
Download: iTunes, Google Play

---


App: Showtime Anytime
Features: Watch the latest episodes of critically acclaimed series like Twin Peaks, Ray Donovan, Billions, and more. Also watch full seasons of all-time favorites like Dexter and Californication.
Special Features: This app allows you to download content straight to your device so you can watch them offline later.
Download: iTunes, Google Play
---


App: Smithsonian Channel
Features: Rotating full episodes and thousands of free videos.
Special Features: A Webby Award Winner and SXSW Interactive Award Nominee, this app is chocked full of interactive content like quizzes, a quick pick tool that learns what you like to watch, playlists, a "video for the day", and constantly evolving feature content.
Download: iTunes, Google Play
---


App: Starz
Features: Full episodes of original series like Outlander, Camelot, and many more. Also watch box-office hits like The Shallows, Passengers, Ghost Busters. New movies are added weekly so you'll never run out of content.
Special Features: Full downloads of your favorite's movies and series to watch offline anywhere. Don't know what to watch? Link the Starz app to your Spotify account and the app will make show recommendations based on the music you listen to. (I personally think this is the coolest feature of them all!)
Download: iTunes, Google Play
---


App: Watch TCM
Features: Access to full length classic favorites on demand.
Special Features: 2 commercial free live-streams at all times, short films, interactive schedule, themes, previews, galleries, just to name a few. This app has it all!
Download: iTunes, Google Play
---

No matter what kind of TV you like to watch, there is an app out there for you! Don't worry about missing a favorite show again. Check out the full list of available apps with Cincinnati Bell TV Everywhere or download the lineup and get tuned in.
What are your favorite TV app features?
*Limited programming available. Additional charges may apply. Functionality varies by compatible device. Only select networks corresponding to your package selection are available for live streaming. All functions and programming subject to change at any time.