TV on the Go:
What happens when you are on a road trip and your kids desperately want to watch their favorite TV show? Or you are stuck at the airport during a layover and know you are about to miss the big game? How do you watch your favorite Cincinnati Bell Fioptics TV shows and movies when you are not at home? The answer: Watch TV on the Go with Fioptics TV Everywhere.
What is TV Everywhere?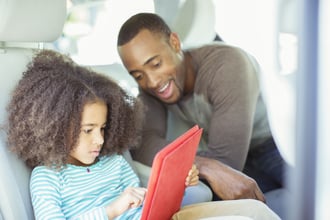 TV Everywhere is an awesome feature that allows you to watch mobile TV on the go. With Fioptics TV Everywhere, you can access some of the best shows, movies and live streams included in your subscription from your computer, tablet, or smartphone. You will use your log-in information for your My Cincinnati Bell to log into the apps and websites of the TV Everywhere Channels.
Step 1: Check out the list of available channels
Step 2: Download the channel app from your app store (Make sure you are subscribed to those channels). Apps are available in iOS & Android.
Step 3: Fill in your My Cincinnati Bell log-in information
Step 4: Enjoy your TV on the Go whenever and wherever you want
It's that simple.
You can also watch TV Everywhere programs on a wide variety of your favorite devices including iPhone, Android, iPad, Amazon Fire, Apple TV, Roku, and more.
Available Channels:
Some of the available TV on the go apps include: Discovery Go, Comedy Central, Disney Now, Freeform, ESPN, BTN, AMC, CNN, HGTV Watch, Starz.

Below is the link to all the available TV Everywhere channels. Click on the channel icon to watch online or on the iTunes or Google Play links to download the application to your device and watch from your tablet or smartphone. Please note that some apps may not yet be available for your device.