Research shows that vishing and phishing continue to be the most common means for scammers to commit fraud. Vishing, phishing, fishing...huh? Read below to find out what these scams are and how to recognize them to prevent you from becoming a victim.
What is vishing?
Vishing, in short, is phone call scams. It's the fraudulent practice of making phone calls or leaving voice messages pretending to be from reputable companies. These happen to trick individuals into revealing personal information, such as bank details and credit card numbers.
If you receive a call, regardless of whether you do business with the calling company, and the conversation turns into sending money (including gift cards), immediately hang up. Then call the company directly to verify the call — do not use any contact information provided by the caller.
altafiber will never ask a customer to pay for their service or equipment or do anything via a gift card transaction. If you receive a suspicious call relating to your altafiber services, please email us at phishing@fioptics.com.

What is phishing?
Phishing, on the other hand, is email scams. Phishing is when a threat actor poses as a trusted source and sends fraudulent emails. Their intent is to gain unauthorized access to your device through a malicious file attachment or link, or trick individuals into revealing sensitive information or taking some action, like changing account payment details. Phishing is so serious that we have another whole blog dedicated to it! Read 6 Ways to Spot a Phishing Email to learn what to look for in email scams, and how to not fall victim to one.
Below is an example of what a phishing email could look like and include. If you receive a suspicious email appearing to be from altafiber, please email us at phishing@fioptics.com.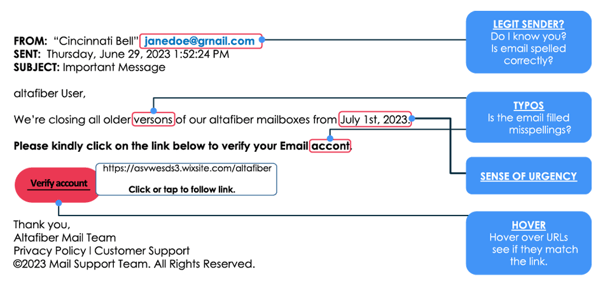 Why should you care?
The Federal Trade Commission stated that in 2022, there was over $1.2 billion dollars lost to vishing attacks. And phishing stats aren't much better. According to Techopedia, there were 300,497 phishing attacks reported to the FBI in 2022, with each attack costing corporations an average of $4.2 million dollars.
---
altafiber prioritizes the safety of our customers and community, especially when it comes to online security. Click the button below to see our additional blogs on working from home and keeping your family safe on the internet, as well as products we offer for increased security.