Imagine this: a city where all children have equal access to Internet resources in and out school, a city where adults can access online job training. Where city, county, state and federal resources, are all in the palm of your hand. A city where everyone is connected to the health resources that can improve quality of life.
Many cities struggle with how to approach their Smart City initiatives: What are best practices? How do we fund? Where do we start? What happens if we don't change and adapt? From Covington to Fairborn, and even in Canada, Cincinnati Bell has implemented a variety of Smart City initiatives. While each city is different, the process is similar. Build a foundation of fiber and Wi-Fi, then prioritize and implement the Smart City technologies critical to our city's progress.
Safer streets, a growing economy, thriving neighborhoods, innovative government; this is what being a Smart City is about.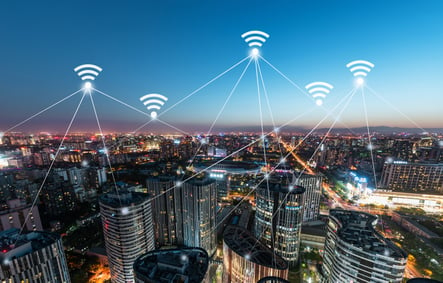 Since 2010, Cincinnati Bell has invested nearly one billion dollars in building out a fiber network that can serve as the foundation for local Smart City initiatives. Today, our Fioptics network covers nearly 70% of Greater Cincinnati. By 2022, we plan to have 90% of the Greater Cincinnati region covered with our Fioptics network.
Most recently, Cincinnati Bell has partnered with city of Covington, KY, to bring Fioptics free Wi-Fi to the city's Central Business District. This free, public Wi-Fi will allow residents and visitors alike to access high-speed Internet while out and about, enhancing daily interactions and experiences throughout the city.
To celebrate the launch of this free public Wi-Fi network and the kickoff of Covington's first Smart City initiatives, all are invited to a special Light Up Covington block party at Park and Court Streets in Roebling Point on Friday, June 8th, from 4-7 p.m. Take the free Wi-Fi for a spin, check out a gaming experience and live demonstrations, plus enjoy food, drinks and the chance to win event tickets and giveaways!
Cincinnati Bell will continue to work with our neighbors in cities and neighborhoods throughout Greater Cincinnati to explore opportunities and partnerships to bring Smart City technology to their communities. We also continue to work with popular venues to provide Fioptics Free Wi-Fi where ever people gather to live, work, or play.
Cincinnati Bell currently offers FREE public Wi-Fi at 14 iconic venues in the Greater Cincinnati area, including:
U.S. Bank Arena
Great American Ballpark
Riverbend Music Center
Newport on the Levee
Newport Aquarium
Washington Park
Fountain Square
The Banks
Findlay Market
Sawyer Point
Aronoff Center
Smale Riverfront Park
Ronald McDonald House
City of St. Bernard, Vine Street
Cincinnati Bell looks forward to continued Smart City initiatives and developments, and to celebrating the Light Up of Covington with you!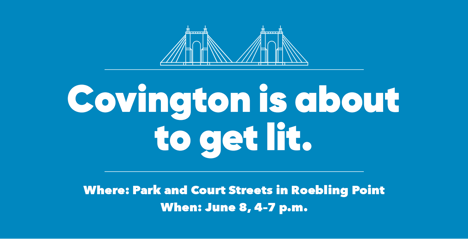 Don't forget to download this PDF to learn more about our Smart City initiatives.