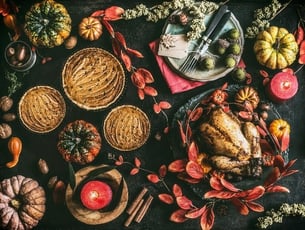 Thanksgiving is right around the corner... this is not a drill! We all know that Thanksgiving is a time for food, giving thanks, and being with loved ones (whether virtually or in-person). Regardless, prepping for the day can be a little stressful. We have some ways for you to work smarter not harder this Thanksgiving. How? Through smart home automation! It's time we give some thanks for Internet of Things (IoT) products that can make your holiday season easier. Here are 10 ways popular smart home devices can help you pull off the perfect Thanksgiving day feast!
1. Shopping- Voice assistants like Google Nest Hub and Amazon Echo Show can act as your very own shopping assistants. As you start to plan out your Thanksgiving, ask your device to keep track of the items you need to buy for the day. You can create a Thanksgiving shopping list and then ask to add to your list when ingredients pop into your head. With online grocery delivery services, like Instacart and Amazon Prime, you can order and receive things you need right from the kitchen. Find more holiday shopping tips here: https://blog.cincinnatibell.com/holiday-shopping-season.
---
2. A Sous-Chef- As you begin to cook your Thanksgiving dishes and sides, you can make your life simpler with, once again, voice assistant devices like the Google Nest Hub or Amazon Echo Show. Just pull up your favorite recipes and the device will walk you through each step. You no longer have to open a cookbook on limited kitchen counter space!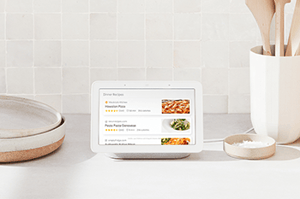 ---
3. Timers– Every dish, side and entrée seems to have its own cook time. This can be confusing and may cause your grandma's famous cheesy potatoes to become grandma's famously burnt cheesy potatoes. Your Google Nest and Amazon Echo come in handy again, this time to keep track of multiple timers for you. Just say, "Hey Google, set a timer for 20 minutes."
---
4. Virtual Gathering- Want to socially distance but still want to spend the holidays with your family? The Google Nest Hub Max allows you to easily video call your loved ones on a large screen with Google Duo. You can virtually talk with them while cooking, eating, or playing.
---
5. Climate control- With a Nest Thermostat, you can control the temperature right from your phone. If the kitchen is warming things up, you can cool it down and heat it right back up again when dinner is over.
---
6. Right lighting – You worked hard on your decorations this year, it's time to show them off! With a Tp Link Smart Mini Plug you can control the holiday lights right from your phone. With smart plugs, you can also do things like turn on your coffee maker right before dessert without ever getting up from the table.
---
7. Set the mood – Every successful gathering has music to set the mood. With Sonos speakers like the Move, you can ask Google to play the songs you want or choose a playlist that fits the mood. Sonos speakers are Wi-Fi enabled and are able to link up with multiple speakers throughout your home to play the same music (great for a surround sound system). You can also play different music throughout each speaker just in case the kids want to listen to their favorite Disney soundtrack in the family room while the parents want to listen to some throwback jams in the kitchen.
---
8. Last-minute cleanup – Thanksgiving dinners can be messy. This year, set a Roomba Robot Vacuum to run while you're getting ready for the day. It saves you time and your home will be perfectly swept, during and after dinner!
---
9. Watch for packages - Are you ordering groceries or decorations online this year? Get notifications when your packages arrive at your door with a Nest Hello Doorbell. The Nest Hello will send you an alert and show you who is at your door at all times.

---
10. Entertainment - Thanksgiving day is filled with yummy treats and lots of homemade food. The kids will be hyped up on sugar and everyone will be stuffed with extra calories. A great way to burn off some of that energy is to play Beat Saber with an Oculus Quest. This will keep the kiddos entertained and it's perfect for some after dinner fun!
---
Ready to turn your home into a smart home? You can browse our wide selection of smart home devices below. When you're ready to purchase them, visit any Cincinnati Bell retail store. Cincinnati Bell customers can also take advantage of our installment billing option, which allows you to pay for these devices in small interest-free payments for up to 24 months.
If you do decide to add some of these devices in your home, be sure to add Premier to your Fioptics service to eliminate Wi-Fi dead spots and get 24/7 dedicated support for all devices connected to your home network!