The most neighborly provider there is.
That is not a catchy tagline that appears in our recent advertisements. With a history spanning 145 years in the community and over 3,000 employees currently living in Greater Cincinnati, just about everyone living in this region can trace some sort of connection – whether it be a friend, family member, or neighbor – to Cincinnati Bell.
For some of our employees, working at Cincinnati Bell has even become something of a family tradition.
Recently, Cincinnati Bell executives recognized the great work our 800 Field Technicians do every day. The Field Technicians are among the most powerful and effective brand ambassadors at our company. As part of this recognition, we interviewed Mark Ward, one of many field employees with multi-generational ties to Cincinnati Bell.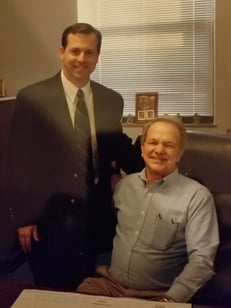 Mark Ward has a long family history with Cincinnati Bell. Mark, who is a Field Operations Team Leader, started working at the company in 1997, with an assist from his father-in-law, Jon David Reinhardt.
Jon David Reinhardt and his brother, Keith Reinhardt, were themselves second-generation Cincinnati Bell employees. Jon David and Keith were the sons of Nick Reinhardt, who starting working at Cincinnati Bell in the 1920s, along with his brother Les Reinhardt.
Mark recently shared his family's history, and how being part of the Cincinnati Bell community isn't just a job but a tradition.
Tell us about Nick and Les Reinhardt, who were the first members of your family to work at Cincinnati Bell.
Nick and Les both worked approximately 40 years at the company. They both started here in the 1920s, and retired in the 1960s. Nick was a splicer and worked at the test desk down at 7th Street. I'm not sure what Les did. Nick was a World War II veteran, and the company held his job while he served.
I should add that Nick and Les had cousins – Bob Reinhart and Clyde Reinhart – who also ended up working for Cincinnati Bell.
The tradition continued with Nick's sons, Jon David and Keith, who started working here in the 1960s and spent their careers at Cincinnati Bell. What did Jon David and Keith do?
Jon David worked as a splicer and, at the time, was the youngest person to be promoted into management. He ran splicing crews and did the hiring for several years. He took that opportunity to get as many Kentucky boys into Cincinnati Bell as he could! These were really talented people, many of whom went on to management roles at the company. Jon David also served as a State Representative in the Kentucky Legislature for 20 years while he was on staff at Cincinnati Bell.
Keith Reinhardt was a line crew boss and his son in-law, Dave Schout, still works on the line crew. Keith's daughter, Karen Sampson, worked in the Recent Change Memory Administration Center (RCMAC) back in the late 1990s.
At one time, the Reinhardts were recognized by the company for having the most combined years of service at Cincinnati Bell - over 200 years back in the late 1980s and early 1990s.
What was your path to Cincinnati Bell?
My wife, Julie, and I were both self-employed when we first got married. I was doing general contracting with my brother, and my wife was a lawyer at that time (She's now a Circuit Court Judge for the Commonwealth in the county we reside in.) We didn't have a steady source of income, so I started looking for a job. I talked to Jon David, gave him my resume, and was hired. I started in maintenance splicing. It was a great opportunity. I learned everything about the outside plant, how to build it, and how to maintain it. Our group was sort of like the oil that kept the entire machine running.
Your father-in-law must have liked you!
I think he liked me! He probably was also looking out for his daughter a little bit and wanted to make sure we had a steady income. But I think he liked having me at the company, and we still talk about Cincinnati Bell when we get together.
You've held different roles since then and are currently a video team leader. What has kept you at Cincinnati Bell for more than 20 years?
I feel like I'm part of a family. I came up with a group of people and we went through training together, and then started our careers together. Doing all of that splicing, dealing with the weather, helping each other ... it brings you close to other people. A lot of the people I came in with now feel like family members.
And this is a company where you can still put in 30 years. There aren't a lot of companies left where you can do that. That was always attractive to me. I don't like to bounce around a lot and am a loyal person.
We regularly hear about field technicians going above and beyond to help people in our community whether they're working or volunteering. Where does that ethic come from?
We're driving around with a Cincinnati Bell billboard on the side of the vans and on our shirts. We take a lot of pride in that. We come from diverse backgrounds, and we want to represent the company well. When we see somebody that needs help, we think of ourselves as a neighbor who wants to help. We're behind this community. And we all take pride in helping this community.
At Cincinnati Bell, it is those like the Ward and Reinhardt families truly embody what it means to be your hometown provider - people who love Cincinnati and its history, and work to make it a great place for them and their neighbors to live.
Do you have a connection to Cincinnati Bell? Share it with us in the comments and maybe we will feature your family's story.
PHOTO: Mark Ward and Jon David Reinhardt
---
Stay tuned for more stories and commercials showing how friends, families, and neighbors stay connected to what matters most to them with Cincinnati Bell. Check out our new Super Bowl commercial to see some of your other Cincinnati Bell neighbors in places all over Cincinnati.