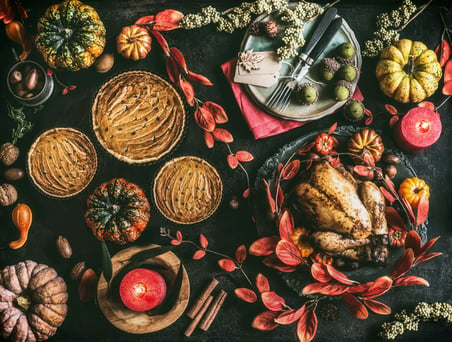 As soon as November hits, it seems like everyone has Thanksgiving on their mind. After all, it is something special to look forward to. It's a delightful time of year focused around food, giving thanks, and being with loved ones.
There is a lot to think about when planning your thanksgiving feast, whether you're hosting or attending elsewhere. What are you going to serve? How many people are you feeding? How long is all of this cooking going to take?
No matter how many people you're cooking for, we understand the time and effort creating a Thanksgiving meal takes. We have put together a list of delicious thanksgiving recipes that take 30 minutes or less to make the whole family will love:
Thanksgiving Recipes
Skillet Sausage Stuffing: You can't have Thanksgiving without the stuffing! This skillet sausage stuffing is the best because it only takes 25 minutes.
Buttermilk Cornbread: This cornbread will warm your soul. Just ask Alexa to help you make this Allrecipes buttermilk cornbread. See how easy it is to cook with Alexa by checking out our blog Cooking Made Easy With Alexa. Make sure to subscribe to the blog to be entered to win an Amazon Alexa Show, too!
Sautéed Carrots: If you want a tasty last minute vegetable dish, this sautéed carrot recipe is perfect to add to your table.
Frosty Pumpkin Nog: Should I even say more? Frosty Pumpkin Nog sounds like the perfect addition to your Thanksgiving meal, or something to enjoy all day long.
Sautéed Green Beans with Bacon: Add some greens to the table with this yummy green bean recipe. It has bacon in it so you know it's good.
Butternut Squash Mac and Cheese: Make something classic for Thanksgiving by trying this mac and cheese with a little butternut squash twist.
Gnocchi with Wild Mushrooms: This isn't your typical Thanksgiving side dish, but adding gnocchi to your lineup might become a fan favorite for years to come.
Pear Harvest Salad: If you want a big harvest salad that tastes like how Fall feels, this recipe is for you. Pears, pomegranate seeds, honey-roasted almonds, and avocado; what more do you need?
Chunky Garlic Mashed Potatoes: Mashed potatoes are always a Thanksgiving favorite. This year save some time by making this chunky garlic mashed potato recipe that only takes 30 minutes.
Garlic Biscuits: These buttery, savory biscuits are just want you need to start up or finish off your Thanksgiving feast (or to be used as a gravy sponge).
Top Recipe Apps
If you liked these suggestions, check out these Thanksgiving recipe apps that will also help in making your dinner delicious.
After the main meal, try some sweet treats like Cranberry Pumpkin Muffins or Pumpkin Pie, both of which take 30 minutes to bake. If these sweet treats don't necessarily suite your fancy, here are 33 more easy pie recipes from Pinterest.
This Thanksgiving season, know your friends at Cincinnati Bell are thankful to call Cincinnati home, and thankful for all our friends and neighbors.
Subscribe to our blog today and be entered to win an Amazon Alexa Show!
Comment below and tell us your favorite Thanksgiving recipes and traditions. What are you thankful for?