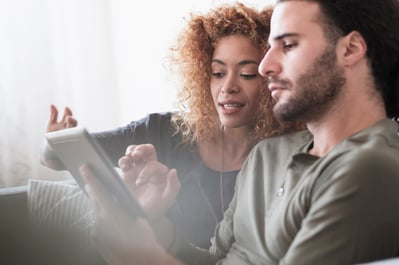 It's a couple days after the New Year's celebration and for a lot a people it's the beginning of New Year's resolution. A fresh new year is a perfect time to pick a personal goal that you want to achieve in 2019, and it's important to pick a resolution that you will be able to stick with throughout the year.

People resolve to focus on health and fitness, set new job related goals, stop a bad habit, get organized, work on relationships, and so much more. Other people (like me) make their personal goal a financial one. My goal is to save as much money as I can by tracking my expenses.
If you are like me or just want to get organized in 2019, I have put together a list of the best expense tracking apps and programs to help you achieve a higher level of financial knowledge and readiness for the New Year.
Expense Tracking Apps
Mint: Mint is by far the most popular app when it comes to expense tracking apps. Mint is perfect for people on a budget because it is free. One of the most popular aspects of this app is that sends alerts and reminders on bills, low funds, and unusual spending so you can stay on top of your finances.
---
Personal Capital: If you look at your bank account and sometimes wonder, "Where is all my money going?" Personal Capital automatically tracks and categorizes each expense. The app is great for managing your investments and has a personal finance dashboard that is convenient for breaking down expenses and figuring out what your spending habits. For example, I love that I can see how much I'm actually spending on my coffee obsession. Cutting back on coffee for my New Year's resolution? Probably.
---
Wally: Wally is an app that will help you seamlessly and intuitively manage your money. Wally lets you take control of your money while balancing your income and expenses. I recommend this app specifically if you are trying to set and achieve financial goals. Not to mention it has a great design layout and is easy to navigate.
---
QuickBooks: If you run a small business or are thinking about starting a small business, QuickBooks is a great option to track your professional expenses. Right now you can buy this app for 50% off for three months. Start your year off right!
---
Expensify: Expensify pairs perfectly with QuickBooks because it is perfect for a small business. With Expensify you are easily able to capture your receipts, submit expenses to the right person, next-day reimbursement, automatic approval workflows, and automatic accounting sync. It's a small business' dream.
---
YNAB: YNAB stands for You Need a Budget. This budgeting app is a little different from the rest because you give every dollar a job before you spend it. The idea is to assign every dollar into a category of what you want to spend or save. This app is perfect for getting out of debt or paying back your student loan.
---
Clarity Money: Clarity money is a great app to analyzing your specific financial situation and works to improve it. Clarity Money will look at your financial picture and deliver insights to you. This app is perfect for cancelling unwanted subscriptions, receiving a free credit score, saving and tracking spending.
---
Mvelopes: Mvelopes is a budgeting and expense tracking app that is based on the time-tested envelope budgeting. The app is designed to put your money into digital envelopes where you can save and budget your money the way you want to.
---
Dollarbird: This free app allows you to add past or future income and expenses to a calendar that will calculate the impact of your balance. One of the most useful features of Dollarbird is that you can share calendars to collaborate on joint budgets.
---
Fudget: Fudget is the perfect app for people who are already on top of their finance but want an extra hand to keep it all organized. This app is good for tracking short-term budget goals.
Protection
While you are using all of these budgeting apps and programs, we understand how important it is to keep your family protected and safe on the internet. One way to protect yourself against internet theft and to keep your devices secure is to use Internet Safeguard. Internet Safeguard will keep your devices secure including smartphones and tablets inside and outside the home and will use banking protection while using banking sites.
Money Transfer Apps
Sometimes while I'm using these budgeting apps to save money, invest, or keep track of my expenses, I also need an app that will allow me to transfer money easily. Luckily for you, I found a few that are great for a quick transaction and still give me peace of mind knowing Safeguard will keep me safe while using them.
Venmo
PayPal
Facebook Pay
Apple Pay
Read our other blog, Protect Your Family Online with Internet Safeguard, to learn all about how to stay safe while still achieving your New Year's resolution goal. To keep your banking information protected, consider getting Internet Safeguard from Cincinnati Bell to keep your devices secure and guarantee banking protection.
Whatever your New Year's resolution is, get organized, be prepared, set intentions and go crush it!