Legacy. It is the way people in the future will remember something or someone. It is the mark we make on this earth or in our society. What does the term legacy mean to you?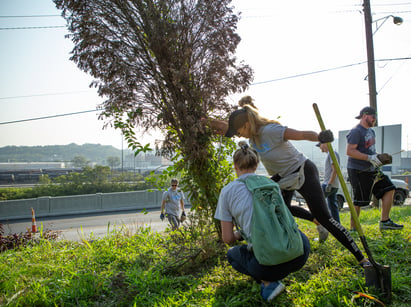 altafiber uses the term "legacy" in reference to our copper wire network, designed and built in the past to carry voice calls and data. This is in contrast to our "strategic" fiber optic network, the network upon which we are building our future. A diverse team of professionals from our field operations, network, and facilities teams have been comparing the energy use and carbon footprint of our legacy copper equipment to our strategic fiber equipment.
Drastic Emission Reduction
We can now quantify that our legacy copper network requires tremendous power to operate, and is responsible for the majority of our greenhouse gas emissions. We estimate operating the legacy copper network is directly responsible for 65% of our carbon emissions! Powering the network equipment itself causes 48% of our emissions, plus an additional 17% of emissions are caused cooling it. On the other hand, our strategic fiber network equipment (6%) and its cooling (2%) are responsible for only 8% of our carbon footprint today because it is so much more efficient.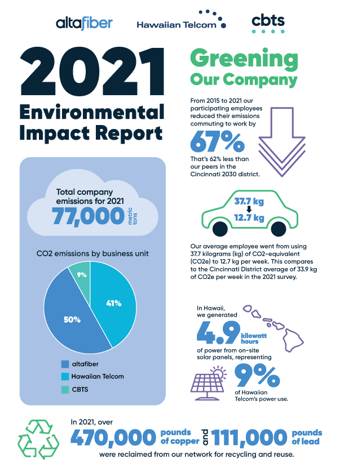 The copper network is truly our legacy. When we built and evolved it for nearly 150 years, it was state-of-the-art and served our customers well. We continue to care for it and take responsibility for its power consumption and associated unwanted pollution. But the next chapter in our story needs to be rapidly retiring the copper network in the favor of newer, better solutions – fiber! As we mentioned in 'Our New 'Big Hairy Audacious' Sustainability Goals' Blog, altafiber has a goal of 40% reduction in GHG (Greenhouse Gas) emissions by 2030 from our baseline year of 2021. This aligns with the goals of the Paris Climate Agreement – limiting global warming to 1.5 degrees Celsius. We plan to accomplish this in large part through migrating customers to fiber and powering down much of the legacy copper equipment.
Click the image to the right to see a larger PDF infographic.
Fiber is Greener
Not only does fiber provide superior reliability and speeds, but it delivers more data with less energy and carbon emissions. Copper is more vulnerable to weather so it experiences more outages; whereas fiber requires fewer services calls, which lowers fleet emissions. In fact, US Telcom The Broadband Association published how broadband enabled technologies are supporting a more eco-friendly future, citing that fiber is 100x more energy efficient than copper-based broadband. 100 times more efficient?! As of 2023, we have finalized our Climate Action Plan with our own copper-to-fiber savings and steps to become more climate-friendly. Check it out at our recent blog, altafiber is Going Green: Will You Join Us?
Learn more about the benefits of fiber technology at our Why Fiber button below and check if you are eligible for our fiber internet service.

Another environmental aspect of our legacy network is the valuable copper, lead, and plastic in the cabling. These materials are difficult and costly to create, and in great demand to produce future tech solutions. As we decommission copper, we will reclaim and return these precious materials to the economy through our continued partnership with Green Planet 21.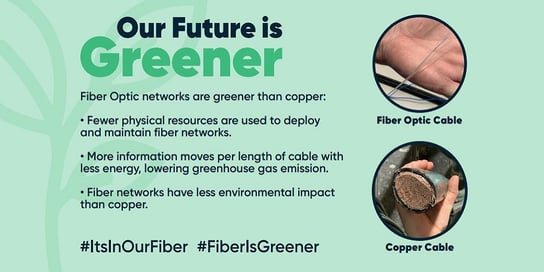 A Greener Legacy
So what's the next chapter in our proud legacy? Pioneering the responsible end to copper-based services, eliminating its energy/carbon footprint, replacing it with superior fiber services, and returning its precious materials to the economy. Because our environmental vision is to connect people, free from waste and pollution, enhancing environmental quality and health in our communities.