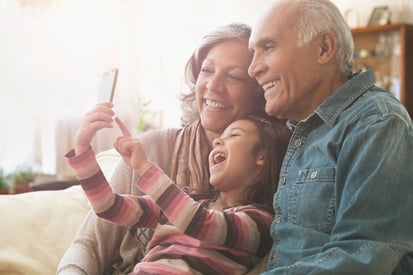 Calling all parents and grandparents, your kids and grandkids love you and they love communicating with you. Sometimes it may seem like your children or grandchildren are disconnected by a technology barrier but there doesn't have to be, as technology can actually help you stay connected. The lines of communication can remain constantly open and you can stay up-to-date with what your family is doing.
With the increase in reliance on technology, many people fear that we might be losing in-person interactions that help us better understand each other. Though spending time with someone in-person is important, connecting online through social media and other tools is a great option for family members to stay connected, especially if you are separated by geography or family structures.
Whether you are new to technology, ready to learn more, or tech-savvy, there is always a way to connect to your family.
New to Technology

Social Media 101: Social media can be a foreign language that may seem scary to understand. However, I am here to tell you that it is a wonderful tool that can help you connect with your millennial children and grandchildren. Social media gives you the ability to communicate with your family, stay up-to-date with what they are doing, and share aspects of your own life.
If you have questions about social media and how to use it, many libraries and community centers host classes to help you improve your skills. You can also look up your questions online by Googling it. If you ask a specific question, you will be surprised how much helpful advice you will uncover. You can even ask your kids or grandkids to teach you the basics, which could be a great bonding opportunity and a great excuse to do something together.
Here are some answers to some of the questions you might be having:
What is Snapchat? How do I use it?
What is Instagram? How do I use Instagram?
What is Twitter? Twitter Basics
How to Use Skype to Connect with Grandchildren?
The more you use technology, the easier it gets! Give it a chance a let technology show you what it can do for you.
Ready to Learn More

Staying connected to your family through social media is important but maybe you want to connect with them in real time through video calls and hangouts. FaceTime and Skype are some of the best ways to make a video phone call. You can call your family or friends on the computer, smartphone, or iPad and actually see them and hear their voice. If you have webcams, you can both sign up for Google+ and download the free hangout plugin. You can "hang out" with up to 10 grandkids at a time. One of the best ways to communicate with your kids and grandkids is through the Amazon Echo Show. The Amazon Echo Show has all the benefits of Alexa while also being able to make video calls to your kids and grandkids.
Tech-Savvy
Now that you have mastered social media and video calling, you might want to learn about apps you have never heard of. These apps offer a great way to connect with younger children and grandchildren especially if you live apart from your family.
Keepy: A place to share school projects, artwork, and mementos that grandparents love to hang on their fridge.

Kindoma: This app allows you to draw, play, or read together in real time over video calls or messaging.

Redeo: Lets you read with your young child or grandchild while they turn the page.
Quality Time Lab: This app lets you explore, play games, draw, sing nursery rhymes, and read together.

Skype, ooVoo, and Voxer: are all examples of apps that allow you to send photos and videos, talk and text in real time.
You can also continue your technology education by asking Amazon's Alexa anything, on an easy-to-use Echo device.
Stay Safe Online
Of course with all of these fun and exciting things we use technology for, you need to remember to stay safe online. Learn how to protect you and your family online in our previous blog.